Once upon a time ...
Our stories about people who made it happen sound like fairy tales, but they are real. They are about real people who have climbed the career ladder at Schumacher Packaging with a lot of courage, hard work and motivation. On the occasion of our 75th company anniversary, we will introduce you to some of them in 2023. Immerse yourself in the success stories of our (Schu) makers!
Out of the career low
with a new upward wind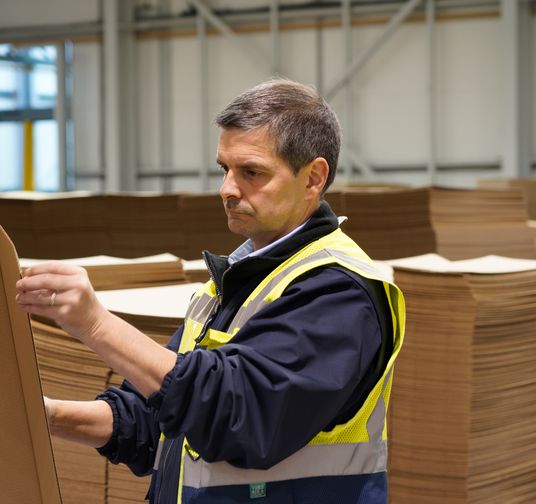 Adrian Madge
Production shift manager at the Birmingham plant

With redundancy looming, Adrian Madge decided in 2006 to hand-distribute his CV to warehouses and manufacturing companies in the Elmdon area, near Bimingham. In the process, he also came across packaging manufacturer Jaffabox Ltd, whose then managing director Frank Amyes offered him a job in his logistics department on the same day. Since 2019, Jaffabox has been part of the Schumacher Packaging Group - and Adrian has meanwhile risen to the position of production shift manager.
After taking over the company, the next

step on the career ladder
When Adrian joined Jaffabox, he was immediately taken with the friendly, family-run business and its expansion plans. He himself developed rapidly from the very beginning: Starting out as a warehouse worker or forklift driver, he was quickly appointed deputy warehouse manager and shortly afterwards was on duty as the driver of a 7.5-tonne truck supporting the distribution of local deliveries. With the installation of the corrugator in 2014, Adrian then moved on to become a clamp stacker driver and then a "corrugator supervisor" - the latter already working closely with the management.
When Frank Amyes sold his business to Schumacher Packaging in 2019 and retired, Adrian took on the role of dispatcher. "When Schumacher became my employer, opportunities arose for the company to expand and, in turn, for me to develop personally," he says. "At that time, I applied for the position of production shift supervisor, which fortunately I got."
As shift manager of production at Schumacher Packaging Ltd, Birmingham plant - as the site has been called since the change of name - Adrian is responsible for more than 20 employees. Among other things, he oversees the daily operation of the factory and corrugator, reports mechanical and electrical faults, ensures optimum productivity and that order deadlines and BRC standards are met. Thanks to his extensive knowledge, Adrian also supports his colleagues in the office, e.g. when there are problems with paper grades and traceability.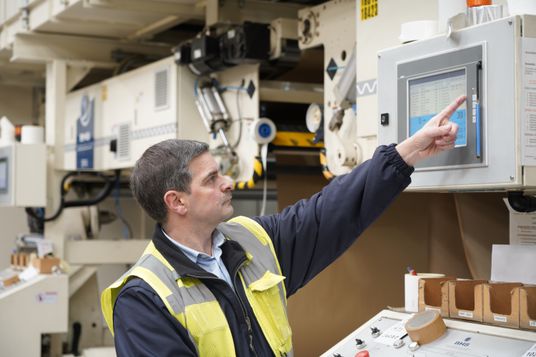 Adrian about

Schumacher Packaging
Being part of an ambitious and forward-looking family business where everyone shares the same values of sustainability, growth and diligence - that's what Schumacher Packaging is all about for Adrian. "I am now over 50 years old and hope to spend the rest of my career with the company and be part of its further development," he says. "I always strive to give 100 per cent in everything I do and to go above and beyond." A real doer.
The cleaner
with the big dreams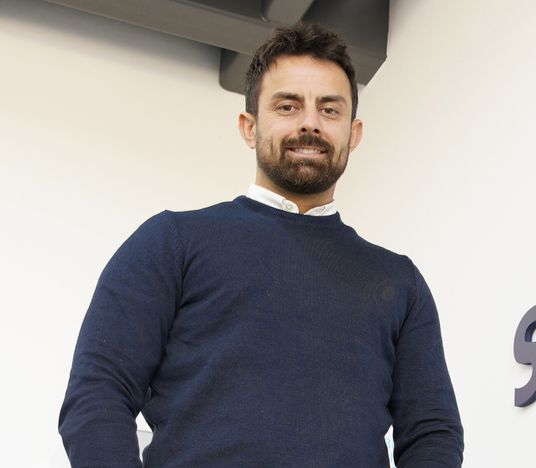 Orcun Sönmezgök
Plant manager at the Forchheim plant

From rags to riches? Not quite. Nevertheless, Orcun Sönmezgök's career path leads steeply upwards. When Schumacher Packaging took over Kartonax GmbH & Co. KG in Nuremberg, the Turkish-born Orcun Sönmezgök had just completed his training as a packaging technologist. Two years earlier he was still working as a cleaner in the same company - committed and with big goals.
From production worker to
plant manager
Brooms, rags and buckets were passé, his training successfully completed. Orcun then continued working as a production employee in Nuremberg for seven years. From 2009 to 2011, he temporarily said "goodbye" to Schumacher Packaging in order to reorientate himself professionally. Hendrik Schumacher left the door open for him during this time. Orcun returned in 2013 as a media technologist - to the newly built Schumacher plant in Forchheim, which had replaced the Nuremberg site in the meantime.
From then on, things went steeply uphill for him: "With the necessary ambition and passion for my job, together with my superiors and a great team, I managed to achieve the goals I had set and gain a lot of experience," Orcun enthuses.
First work preparation, then process optimisation, since 2017 operations management at the Forchheim plant with 170 employees. Orcun's core competence is in the commercial sector and includes design, work preparation, pre-press, planning, production and logistics.
Orcun about
Schumacher Packaging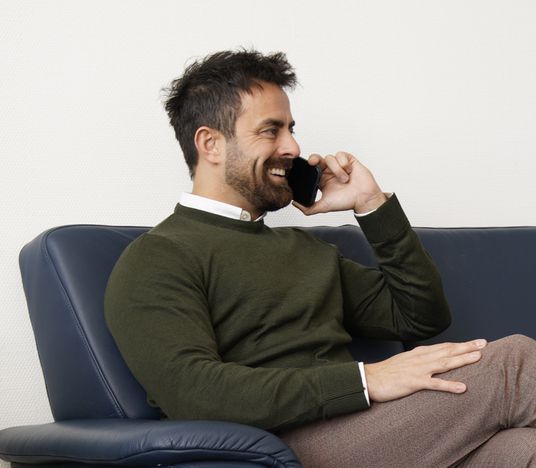 The opportunities in our dynamic company left hardly anything to be desired for him, says Orcun. Hardly. There is still one or two dreams he is working towards: to take on more areas of responsibility and to expand his involvement in supply chain management. To this end, the doer is even improving his English in lessons in order to be able to communicate with colleagues and business partners throughout Europe.
"Loyalty, determination and productivity are the keywords that characterise me as an employee, motivate me and make me hungry for further success."
From apprentice to plant manager:

A steep career at Schumacher Packaging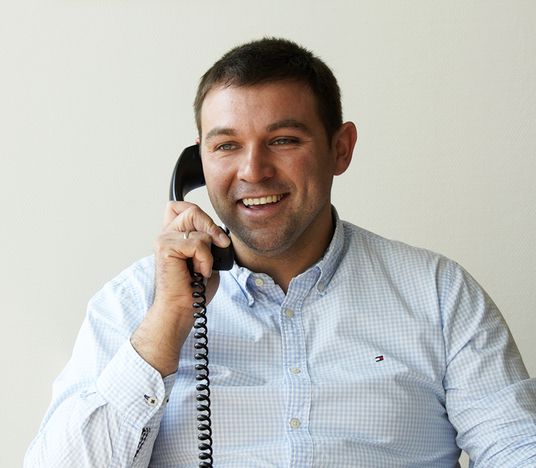 Oliver Michel
Operations manager at the Sonneberg plant

Oliver Michel is a real hands-on person - and one who shows what's possible: even as a schoolboy, he worked for us during the holidays. Since then, Schumacher Packaging has been a thread running through his CV. In 2009, he began an apprenticeship as an industrial clerk. Today he works as a plant manager at the Sonneberg factory and is responsible for 200 people.
With his A-levels in his pocket, Oliver enrolled in an automotive degree programme at university. But student life was not for him: "I wanted to get started directly on the job and prefer to learn first-hand," he says. So he started a commercial apprenticeship as an industrial clerk - and with us. Thanks to his commitment and good performance, he completed the intermediate examination with a grade of 1.0, which enabled him to shorten his training period to two years.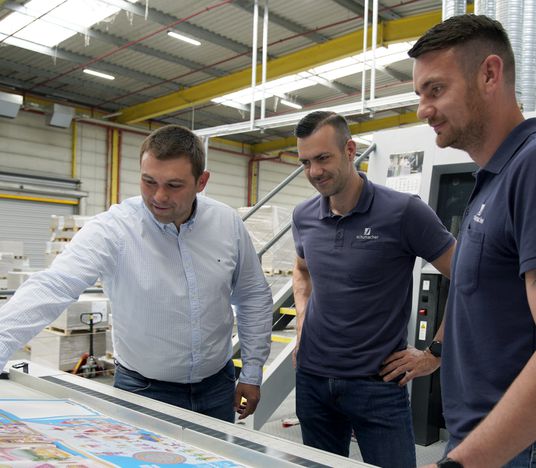 After three years in process optimisation at the Ebersdorf plant, Oliver wanted more and therefore sought a conversation with Managing Director Björn Schumacher. He then added a degree in business administration to his training - and continued to work at the company in the meantime. The Schumacher family promised him an interesting job after his successful graduation. And that's what he got: Hendrik Schumacher, also managing director, offered the freshly graduated bachelor the position of plant manager at the Sonneberg plant. "I could always rely on the company. I really appreciate this trust," he says.
Since September 2016, Oliver has now been working successfully as operations manager. He is responsible for production, quality assurance, shipping and personnel, among other things. A dream job for him: "I have a diverse range of tasks for which I need motivation, courage, patience, perseverance, negotiating skills and assertiveness - and that every day anew. That's what I love about my job.
Oliver about
Schumacher Packaging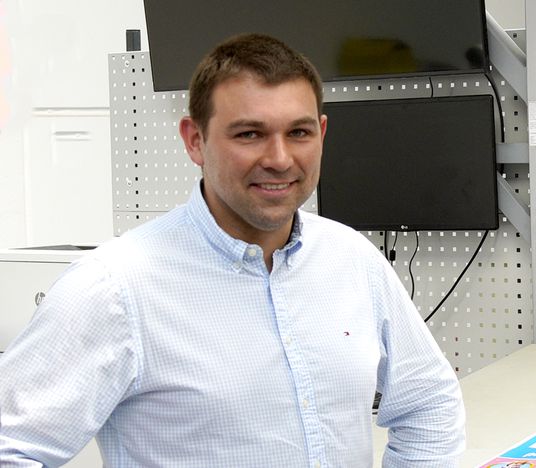 A European player that has retained the DNA of a medium-sized company and its family structure despite rapid growth - that is what Oliver values most about his employer. He firmly plans to be part of the company until retirement. "I am currently in the position I always wanted to be in," he says. "I want to continue to grow together with Schumacher Packaging, also on a personal level."
Write your
own maker story
Our doer stories inspire you to take your next career step at Schumacher Packaging? Do you like to get things done, are you committed and want to make a difference? Then do it! Browse our career portal and apply for your desired position. We look forward to receiving your application!