Sustainability is no longer just a buzz word. It has become an absolute necessity – and also plays a central role in the development process for new packagings. Companies striving for carbon neutrality are increasingly turning to minimal packaging and using natural materials such as solid board or corrugated board in place of plastics. One such company is our customer and partner Stiebel Eltron. This corporate group, based in Holzminden in Lower Saxony, Germany, is one of the global market leaders in the fields of building systems and green technologies. Stiebel Eltron boasts a long tradition of innovation stretching back to its foundation in 1924, which has enabled it to register more than 1700 patents – many of which have set benchmarks in terms of sustainability.
"Sustainable wellbeing" is one of the guiding principles of Stiebel Eltron, and is a standard by which the company wishes to be judged. In recent months, Schumacher Packaging and Stiebel Eltron have collaborated to develop an innovative and environmentally friendly monopackaging for a new hot water system. This packaging meets the rigorous requirements of Amazon FFP and ISTA 6 Amazon.com SIOC certification and substantially reduces the use of plastic inserts. SIOC-certified packaging enables products to be shipped directly in their original packaging, eliminating the need to use additional packaging when shipping the product. This reduces the environmental impact of the packaging. This is a packaging innovation, custom made in Germany – produced by the family-run Schumacher Packaging Group based in Ebersdorf bei Coburg in Bavaria, Germany, following the principle of sustainability. The goal of Schumacher Packaging is to create even more environmentally friendly packaging products, and the company works together with its customers on a daily basis to achieve this objective.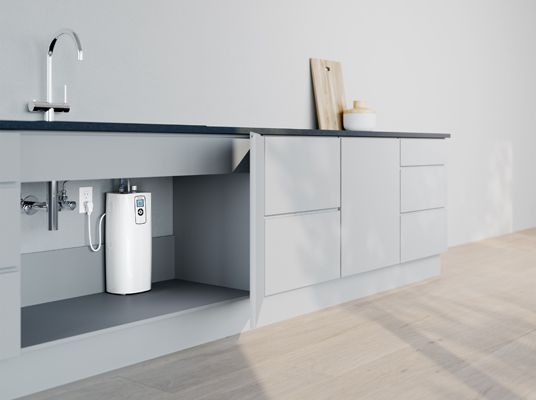 Environmentally friendly and
impressive
The process of innovation always involves challenges. In this case, the challenge was to take the impressive product created by the customer and design a modern and environmentally friendly packaging to make it even more impressive.

The HOT 2.6 Premium hot water system is used in many households and small shared office spaces. It is a quick and convenient way to produce very hot water for preparing drinks and meals or cleaning very dirty dishes, for example. But how does this innovative product reach its customers – and what happens to the packaging? These questions formed the starting point for the product experts at Stiebel Eltron, who investigate precisely how carefully a product needs to be packaged in order for it to reach the customer without the risk of damage. Other issues include how much the packaging can contribute to resource conservation and how it can be properly disposed of. Only a professional take-back and disposal system can ensure that high recycling rates can be achieved and thereby ease the burden on landfills and the environment.
"We set ourselves the goal of avoiding plastics in our packagings in order to make our products even more sustainable", says Hauke Hagen, Head of Product Management at Stiebel Eltron. "We also wanted to offer, for the first time, a packaging that meets the high Amazon FFP standards with ISTA 6 Amazon.com SIOC certification. We achieved this thanks to a strong process of innovation – working together with experts from Schumacher Packaging, we have developed an ideal product."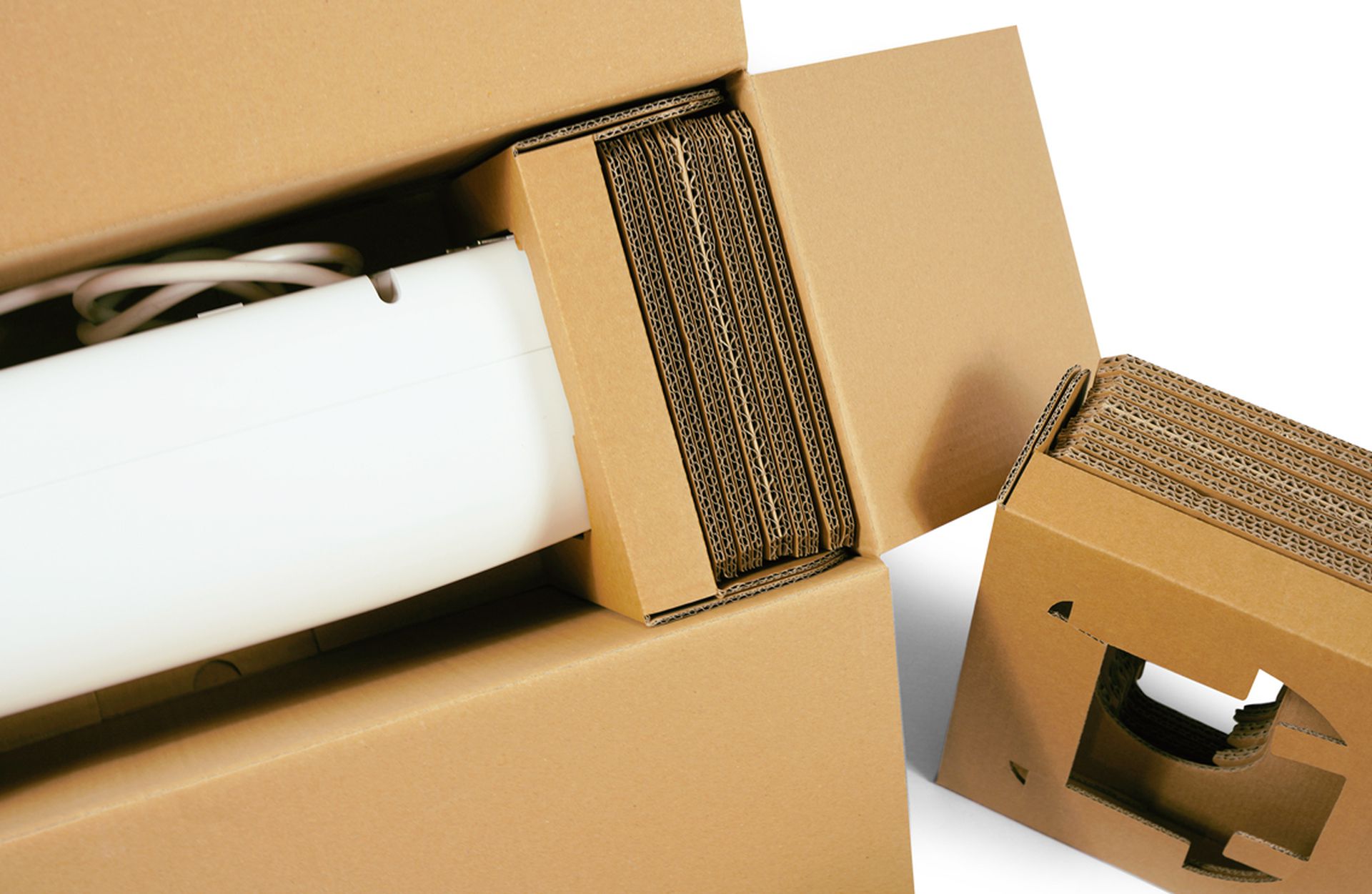 The packaging specialists at Schumacher Packaging gladly rose to meet the challenge. They develop monopackagings – i.e. packagings that are completely paper-based and able to meet all the stresses involved in shipment – for a range of product categories in various industries, tailored to suit the specific requirements of each customer. There is a clear trend across all industries away from plastic and towards paper. Many goods can already be packaged and delivered entirely in cardboard or corrugated board packagings.
Co-creation –
Working together for the sake of the environment
Collaboration on packaging development with Stiebel Eltron officially started in 2020. It took just six months to progress from initial discussions to the first prototypes. Over the course of those six months, experts from Schumacher Packaging worked closely and intensively with Stiebel Eltron to design the monopackaging. This development period involved agile and iterative cooperation and co-creation, which was the only way to ensure that collaborative product development could proceed at such a high level and pace.

The development team initially worked using a 3D design model until the first prototype of the new product was available. It is important for the innovation experts at Schumacher Packaging to be able to tailor the packaging precisely to the specific product for which it is intended. To test the stability and robustness of the packaging, a wide range of tests were performed in the material testing laboratory at the Schumacher Packaging headquarters in Ebersdorf, prior to the final certification testing by the Servicecenter Umweltsimulation environmental testing company in Dresden, Germany which involved rigorous, stringent tests to ensure that it was ideal for handling in day-to-day operations. It was vital to ensure that the packaging was suitable for this kind of handling – in other words, if the packaging was not easy to assemble, it was not yet ready for the market.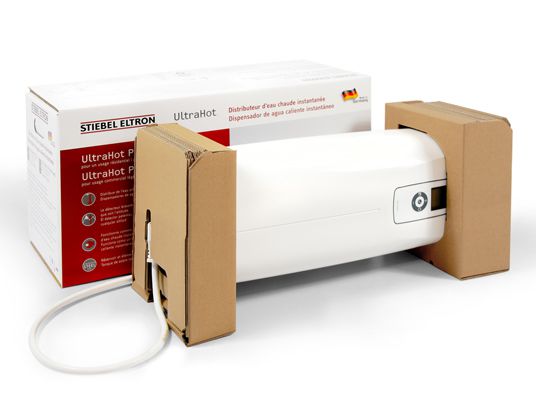 "Extremely valuable"

certificate

The result of this collaboration even managed to exceed initial expectations: The new monopackaging for the Stiebel Eltron hot water system meets the FFP requirements for Level 2 (SIOC), as verified by the ISTA-6-Amazon.com SIOC testing. For companies that distribute their products in conjunction with Amazon Shipping, these are essential components for ensuring that their products succeed.
"We are pleased that this project enables us to meet our high requirements for sustainability", says Carsten Hüge, Development Engineer at Stiebel Eltron. "The jointly developed packaging has made it possible for us to not only reduce plastic use, but also dispense with additional outer packagings. This means that we have made substantial progress in terms of sustainability while also providing a positive brand and unboxing experience for our customers."
Modern monopackaging
thanks to corrugated board
Schumacher Packaging wants to support its customers in achieving their environmental objectives. For example, intelligently combining paper qualities can save material and reduce the weight of the packaging – without compromising stability. This results in a significantly reduced CO2 footprint for customers.
The company demonstrated this to impressive effect with the packaging for the Stiebel Eltron hot water system. A conventional packaging would require multi-part secondary packaging consisting of a cardboard (or plastic) outer box with up to four inserts. The new monopackaging dispenses with the need for these material inserts, for the benefit of the environment. This enables the CO2 footprint of the packaging to be reduced to a minimal level of 0.659 kg CO2/t corrugated board.
An important feature of sustainable corrugated and solid board packaging materials is their 100 percent recyclability. This recycling product is therefore the perfect material for monopackagings in order to completely eliminate the use of plastics – a crucial step for companies wishing to reduce their environmental footprint with their packaging as well. Trailblazers like Stiebel Eltron have long recognised this, which is why they have been working together with the packaging specialists of Schumacher Packaging to make an additional contribution to their environmental protection efforts.
Frustration Free Packaging
Amazon has been working to avoid additional packagings for years, which is why they launched their Frustration-Free Packaging programme in 2008. This includes their PFP, SIOC and FFP certifications. Ideally, manufacturers will package their products securely enough that no further packaging is required from Amazon prior to sending the product to customers. These measures are even better if the packaging is recyclable and easy to open.
The three certification levels at a glance:
Level 1: Frustration-Free Packaging (FFP): No additional packaging required, and the original packaging is recyclable and easy to open.
Level 2: Ships in Own Container (SIOC): The goods are delivered in their original packaging.
Level 3: Prep-Free Packaging (PFP): Additional outer packaging is required, but additional preparation prior to shipping is not required.
CONTACT US.
We make smart barcode solutions

for you, too.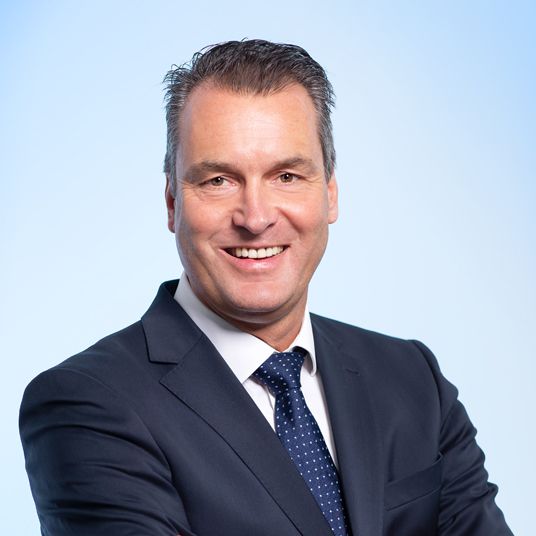 Hello!
My name is Jochen Drösel. My team and I are the people that make things happen at Schumacher Packaging. However unique your requirements, we create custom solutions, perfectly tailored to your needs. We look forward to hearing from you!