Spreading joy with sustainable gift giving – our gift packaging makes it easy. We manufacture primarily from natural materials and create packaging with modern designs - always top quality and at attractive prices. Be inspired and enchanted by our many packaging ideas.
The new gift boxes

2022/2023
The latest collection is as multifaceted as the tastes and occasions that inspired it. From understated and neutral designs and smart and contemporary motifs, through to elegant, festive looks, we have everything you need for the upcoming season.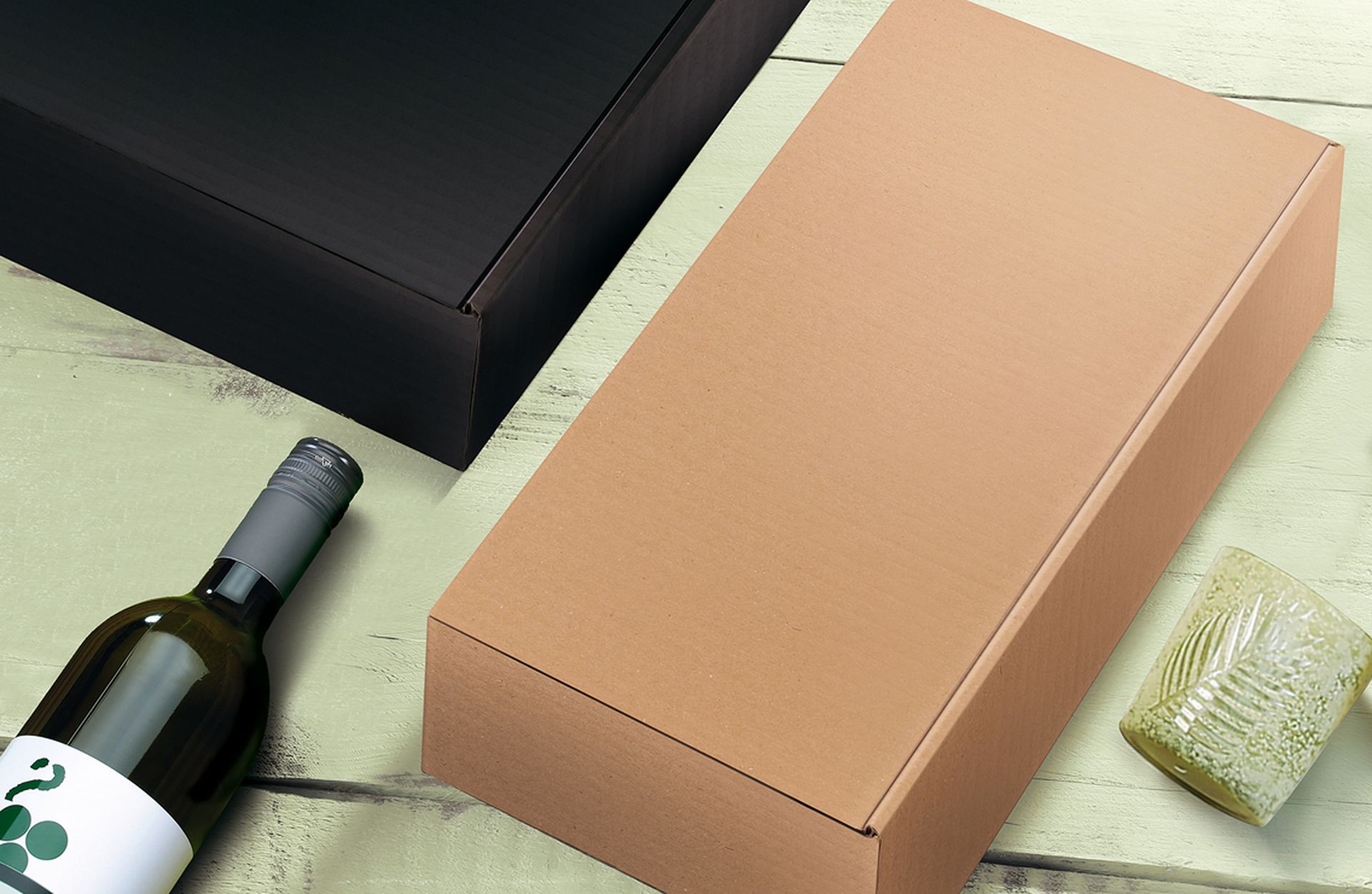 Gift box

Ecoline
With its smooth cardboard surface and clean look, the "Ecoline" gift box made of natural corrugated cardboard proves that sometimes less is more. The packaging convinces with its neutral and sustainable look - whether in natural or black, whether for one, two or three bottles.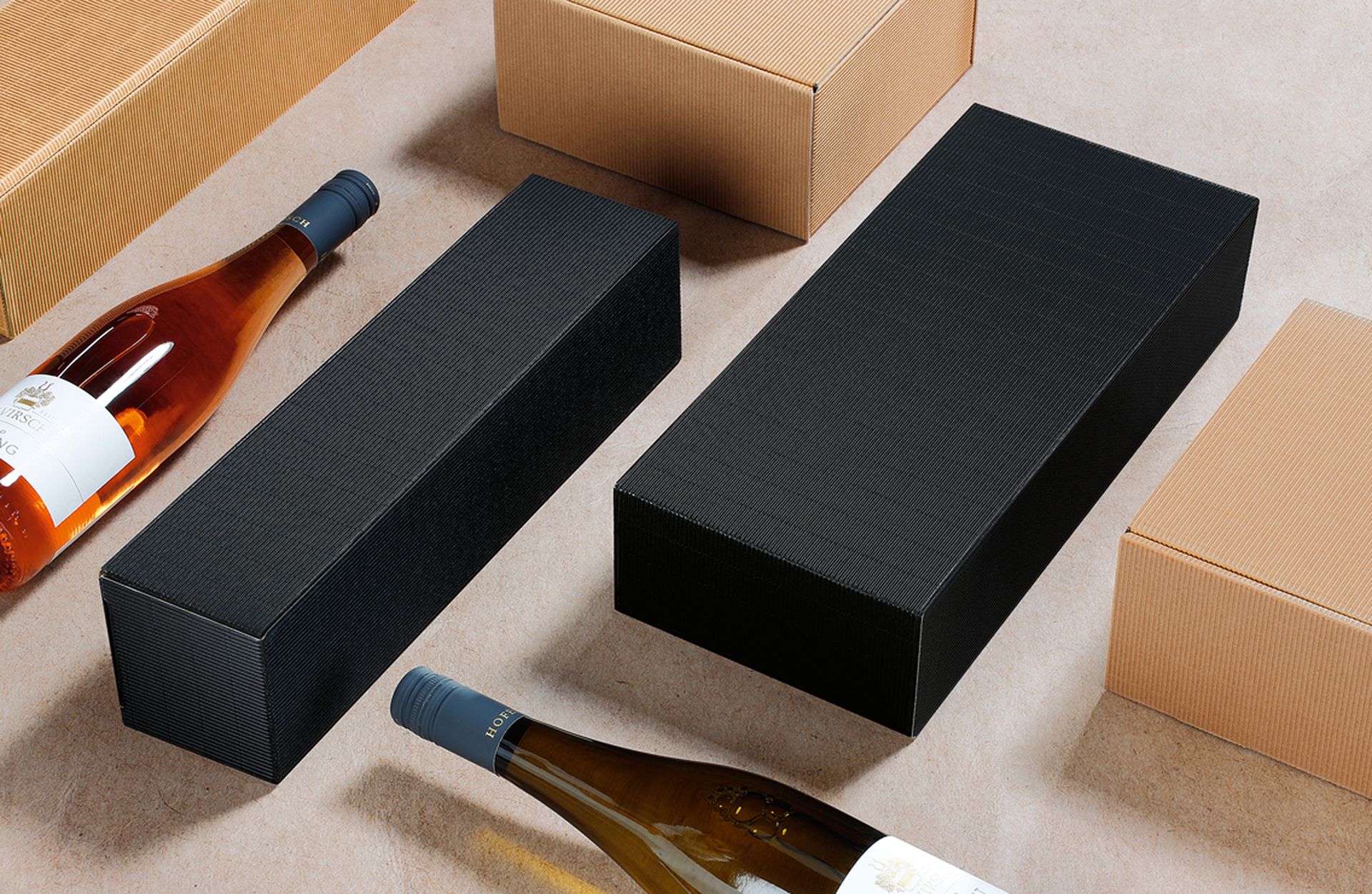 Folding box

Open flute in black
The classic open flute for one, two or three bottles is presented as elegant folding box in the trendy colour black.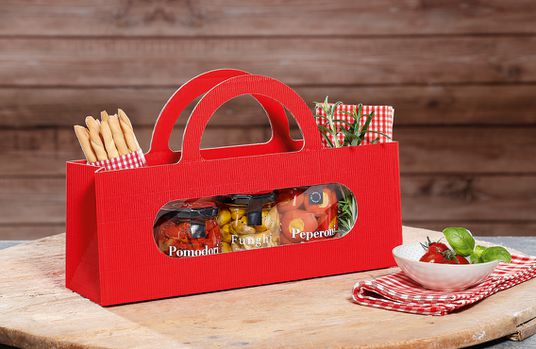 Carrier bag
Style
With the Style carrier bag you can create attractive gifts in no time at all. The tote bag is available in red (picture 1) and in vintage design (picture 2).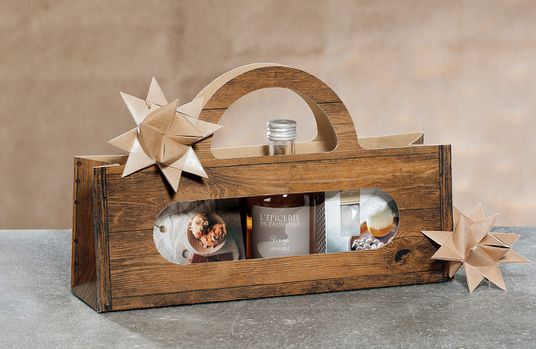 Carrier bag

Style
The ideal packaging for all occasions and seasons: In addition to a 0.75 l bottle, the bag with the oval viewing window is ideal for mixed gifts.
The new designs for

Christmas 2022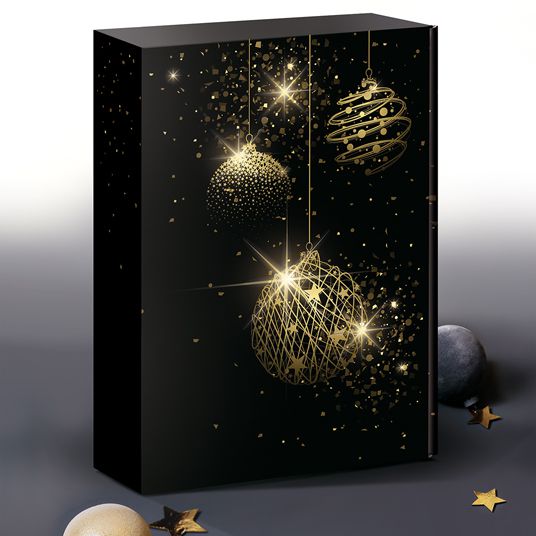 Gift box and folding box

Christmas Deluxe
Black cardboard meets shiny Christmas tree balls and sparkling gold plates: A luxurious Christmas is in store with the new "Christmas Deluxe" gift box and folding box. This tasteful packaging is ideal for festive drinks such as wine and sparkling wine. Both the gift box and the folding box are available in three sizes.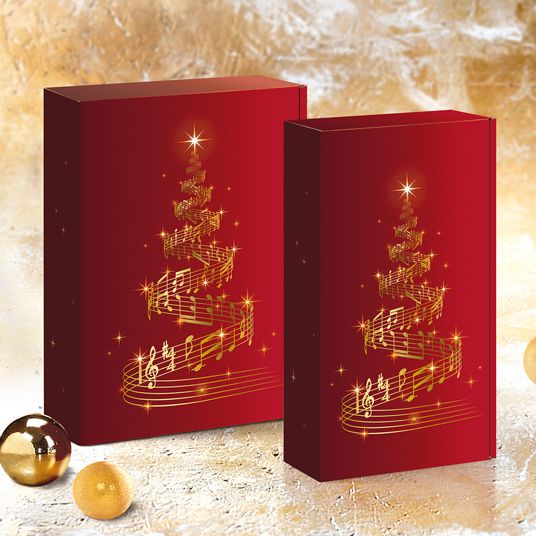 Gift box
Christmas Melody
Traditional carols are simply part of the festive season. The red "Christmas Melody" gift box is a skilful visual representation of this custom - with an elegantly curved, golden music band in the shape of a Christmas tree.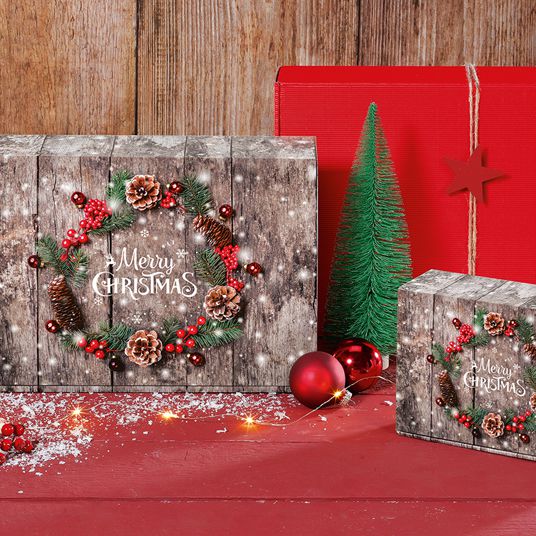 Gift box
Weihnachtskranz
The cosy motif "Christmas wreath" on a rustic wooden background is available in 2 and 3 gift boxes and as a gift box in three sizes.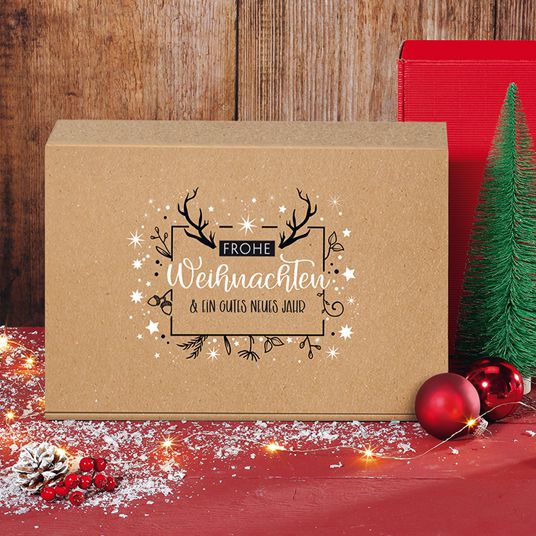 Gift box
Frohe Weihnachten
The motif series "Froh Weihnachten" has been extended and now includes a gift box for two or three bottles as well as a small gift box.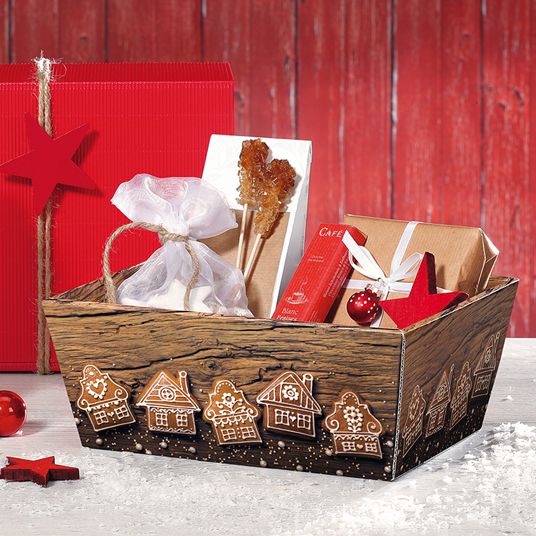 Gift basket

Knusperhäuschen
Digitally printed with food-grade colours, the "Knusperhäuschen" gift basket whets the appetite for the festive season with its rows of gingerbread houses on warm and rustic wood tones.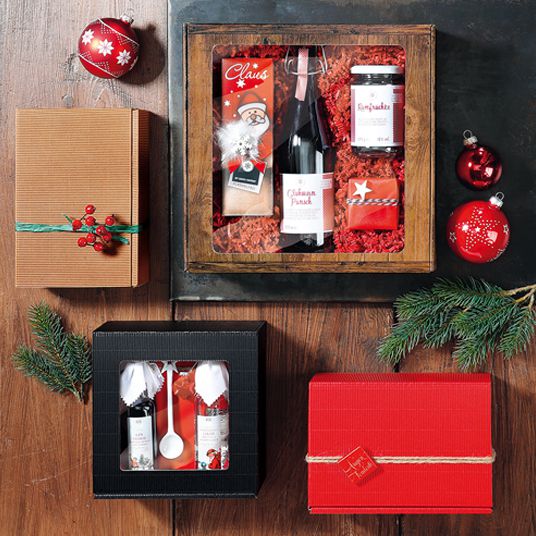 Gift box

Vintage
Small gifts are becoming increasingly popular - and can be stylishly presented in our gift boxes. We offer the boxes in different colours and sizes as well as with and without a window. A new addition to our range is our Vintage gift box, large with window - also available with matching inlay on request.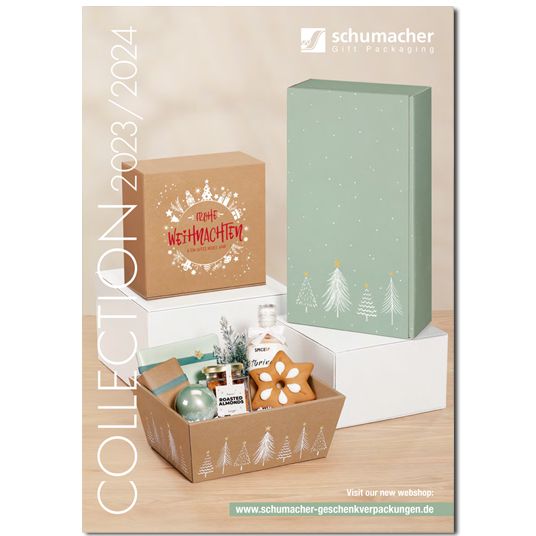 Main catalogue 2022/2023
The current catalogue with all new gift boxes for 2022/2023 is available for download here.
How to –

folding gift­packaging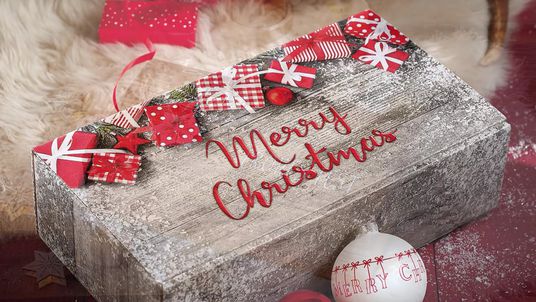 Our tutorial videos show you step-by-step instructions for erecting and folding gift packaging.
CONTACT US.

We make gift experiences unforgettable.
We are one of the largest manufacturers of sustainable gift packaging. Our specialists will be happy to provide you with extensive advice and prepare your custom offer upon request.