Last but not least, we also produce assembled packaging sets, called module packaging, for automotive suppliers. For example, space-saving, collapsible one-way pallets make for easy handling and simplify processes within the supply chain. And the recipients – automotive manufacturers – can dispose of their supplier's transport solution with ease as the material is 100% recyclable.
CI compliant and

tamper-proof
Corporate identity is becoming increasingly important, and this goes for automotive suppliers too. We can help you create a consistent corporate image by printing a range of packaging solutions using the optimum method for each one – flexographic printing or HQ flexographic printing, mass-volume digital printing with individual barcodes or high-quality offset printing. Modern printing techniques and black-light colours even protect you against brand piracy - your CI compliant packaging also confirms the authenticity of the spare part within.
The sustainable small load carrier for

global supply chains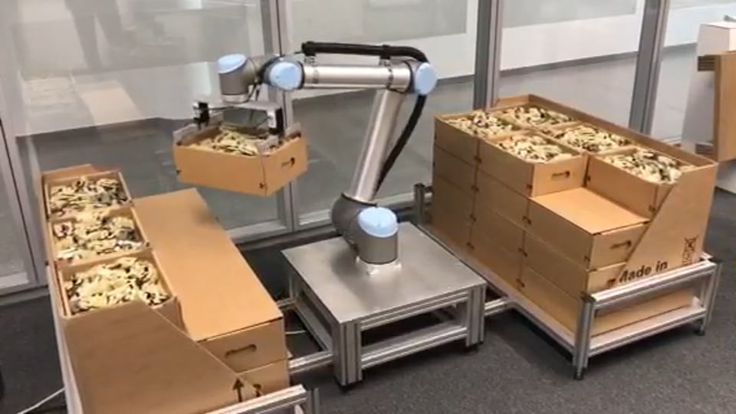 A major German automotive supplier was in need of a new small load carrier for one-way shipping overseas. We developed this small load carrier out of fine-flute corrugated board, as a lighter successor model to the small load carrier made of heavier EB flute which was previously in use. Our fully recyclable solution is also an ecological alternative to conventional small load carriers made of blue plastic, according to VDA. Our third-generation small load carrier had to be suitable for global applications and use corrugated board grades that are available worldwide.
Reduced use of resources,

less space required and lower transport costs
Our small load carrier is made of lightweight B flute but the new corner design means it is just as sturdy and stackable as its EB flute predecessor. It is easy to assemble manually and features both ergonomic handles and recesses for robot handling. The main advantages of this new design are its reduced use of resources, smaller space requirement and transport costs, which are 45% lower than its predecessor made of EB flute.
Special designs for the

automotive industry
Vehicle doors, engines, spare parts and other elements of the automotive industry require packaging that can carry huge amounts of weight, withstand heavy stress but is not too heavy in itself. Sustainable, heavy-duty cardboard packaging offers many advantages: it is light in weight, minimises transport and storage costs, can be reused and is 100% recyclable.
We create conventional solutions as well as tailor-made special designs for the automotive industry, which provide maximum protection for your speciality goods. For our industry packaging, we use triple wall corrugated board, which is particularly robust, strong and solid. We also offer composite packaging made from corrugated board, foam and wood, even in small quantities.
CONTACT US.
We create custom solutions

to suit your requirements.
Hello!
My name is Jochen Drösel. My team and I are the people that make things happen at Schumacher Packaging. However unique your requirements, we create custom solutions, perfectly tailored to your needs. We look forward to hearing from you!