CargoProtop®

–


paper-based eco-module


Our paper-based CargoProtop® cover plates/frames are used to fix loads to a transport pallet to ensure they are secure and stable. In comparison with the conventional chipboard, this paper-based solution offers three key advantages: it is lighter, more stable and more robust.

Thanks to its round edges, low weight and splinter-proof material, CargoProtop® enables problem-free handling and optimum securing of goods. The risk of injury when handling, palletising and strapping down goods is reduced, while its low weight also safeguards the health and well-being of workers. From a hygiene perspective, it is a significant advantage that neither splinters nor dirt particles are released when securing the goods.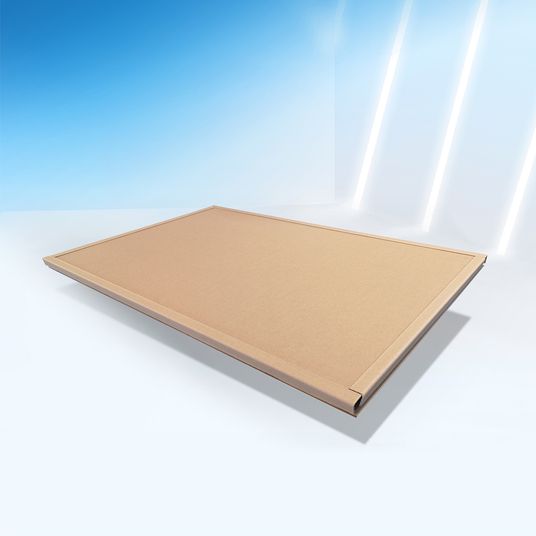 Low weight despite standard sizes

We supply CargoProtop® cover plates and frames in the standard sizes of 600 x 800 mm, 800 x 1200 mm and 1000 x 1200 mm.
As the material is recycled paper, CargoProtop® products weigh just three kilogrammes.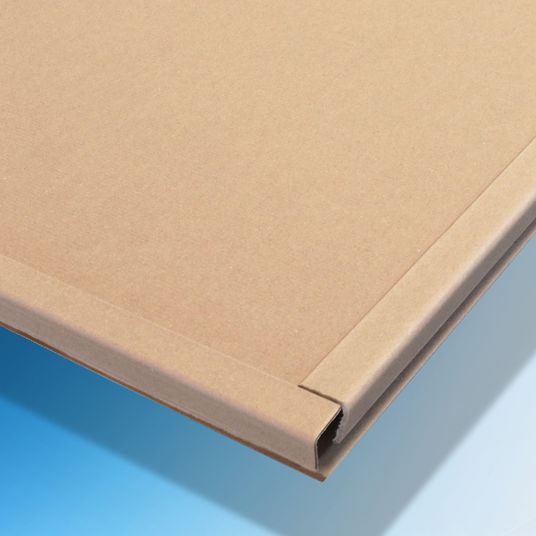 Fully recyclable monomaterial

Our CargoProtop® cover plates can be disposed of quite easily along with waste paper and is completely recyclable. This means they are far more environmentally friendly and resource-efficient than the conventional wooden solutions.
This material is also ideal for transporting foods, as it easily complies with hygiene regulations.
Your advantages

at a glance
Environmentally friendly - 100% recyclable
Paper pallet

–


eco-friendly, light and hygienic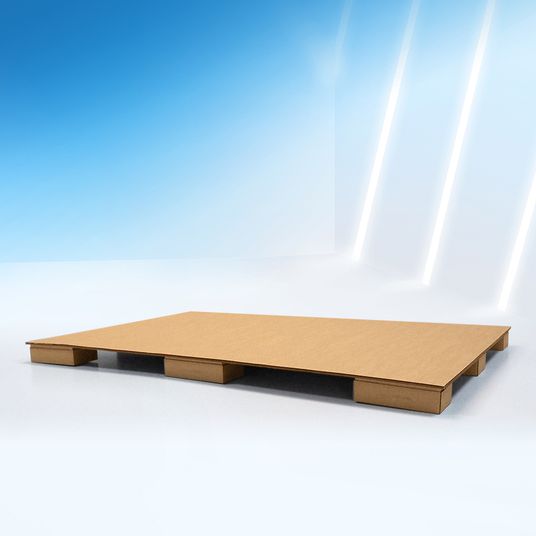 Our paper pallets are just as reliable and stable as customary wooden pallets. However, while a conventional europallet weighs 28 kg, the new paper-based pallet comes in at only a fraction of that weight. Not only does this saving reduce transport costs and CO2 emissions, it also quite significantly facilitates handling for logistics workers.
The smooth surfaces and shock-absorbing edges minimise the risk of injury when loading. Hygiene requirements are easily maintained with this newly-developed material since, unlike wood, the paper pallet requires no pre-treatment and is hygienically safe.
Your advantages

at a glance
Perfect for foodstuffs and delicate goods

Environmentally friendly - 100% recyclable
Edge protection made from

sustainable solid board
Our edge protection provides excellent transport protection for palleted goods. The environmentally friendly alternative to wood, plastic and metal protection strips impresses with its consistent quality and stability, even during repeated loading and strapping. We offer the sturdy, solid board edge protection strips in a variety of lengths and formats and can also produce custom strips if required. Please get in touch!
Interlayers –


comprehensive product and cargo protection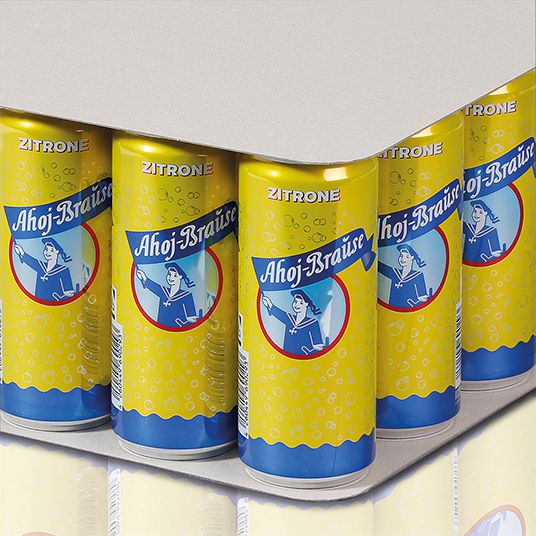 With intermediate cardboard layers you can safely and efficiently separate, stack and stabilise the pallet loads. Our blanks avoid hollow spaces and prevent your goods from slipping, thereby providing reliable protection against impacts and friction. In contrast to interlayers and stacking frames made from hard fibres or plastic, our interlayers are made from environmentally-friendly corrugated board which is fully recyclable and ensures maximum stability. Whether angular and bevelled, or with rounded edges (25 and 50 mm radius), we supply the blanks you need in order to properly package and store your goods. Please get in touch!
Pallet container –


with integrated paper pallet
Our robust pallet containers with paper pallets have been specially designed for the export and dispatch of heavy units, to provide reliable protection against damage.
They are delivered flat, which saves space in storage. Before being filled, the pallet container is unfolded and placed in the accompanying custom-fit, paper-based pallet. A slip lid stabilises the full container until picking. This is a very easy process, thanks to a loading flap integrated in the side.
Both elements, the container and pallet, are made of corrugated board monomaterial – this makes them 100% recyclable and easy to dispose of in an eco-friendly manner, with other waste paper.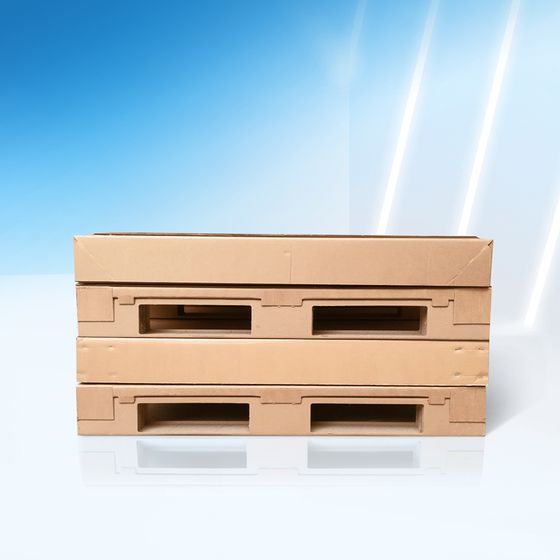 two elements

one material

multifunctional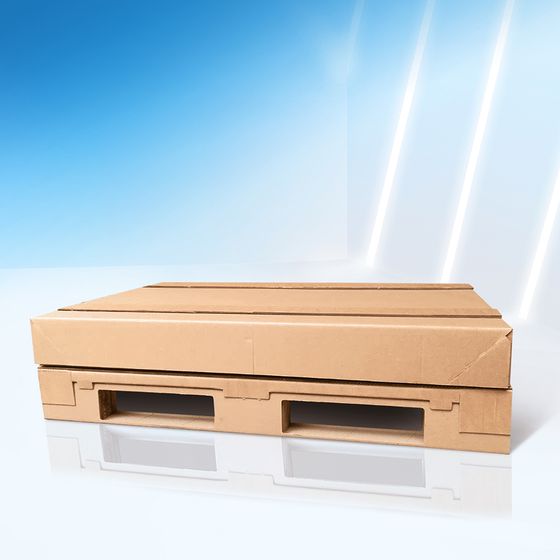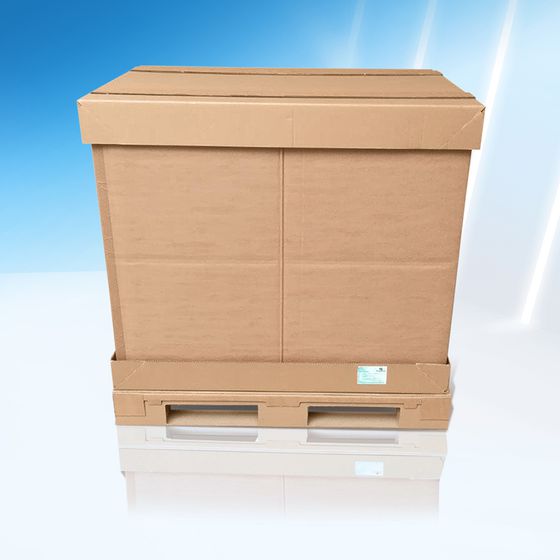 Side loading flap

for easy filling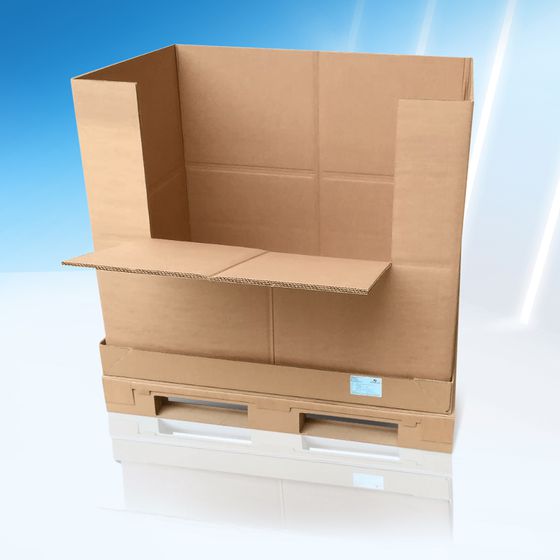 DumpHolder –


smart storage and transport solution
The DumpHolder is a sustainable consolidation container for the storage and transport of small packages, envelopes and mailers to the mail sorting centre (HUB).
Set-up requires just a few steps and is extremely easy and uncomplicated. Integrated feet provide the DumpHolder with stability when standing. Wooden pallets, which splinter and can therefore cause accidents, are therefore as good as obsolete.
The sturdy corrugated board provides excellent protection for full packages during the loading process and transport. Using tear strips, the DumpHolder can be easily opened like a window, vertically or horizontally – for safe loading at the package HUB.
Your advantages

at a glance
Quick loading process and transport

No additional wooden pallet required

Environmentally-friendly corrugated board
Heavy duty­packaging –


for the transport of extremely heavy goods
Load-bearing and ecological: In order to ensure the safe transport of sensitive, valuable goods and extremely heavy loads from A to B, heavy-duty packages must provide maximum performance and withstand huge loads. Robust materials and easy handling are equally important in ensuring that goods are efficiently secured.
Whether it's large spare parts for cars or heavy machinery in tool making - we create conventional solutions, bulk packaging and special designs made from triple wall, heavy-duty corrugated board, as well as composite packaging made from corrugated board, foam and wood – tailored to your individual requirements.
CONTACT US.
We create custom solutions

for your logistics requirements.
Hello!
My name is Jochen Drösel. My team and I are the people that make things happen at Schumacher Packaging. However unique your requirements, we create custom solutions, perfectly tailored to your needs. We look forward to hearing from you!