Stackpack: Schumacher Packaging introduces paper-based
top-seal tray for delicate fruit and vegetables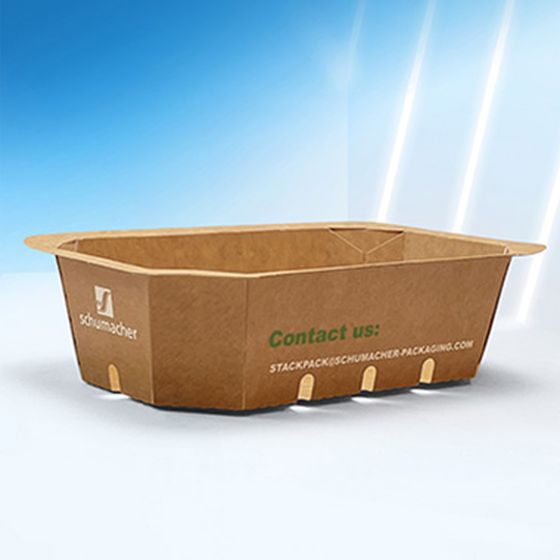 Fully recyclable
Ebersdorf bei Coburg, 07. February 2023 +++
The Schumacher Packaging Group, one of Europe's largest manufacturers of customised packaging made of corrugated and solid board (www.schumacher-packaging.com), is launching Stackpack, a new type of top-seal tray for food. Stackpack is made of 100 per cent solid board, is recyclable, and can completely replace conventional plastic trays. The innovative, sustainable and exceptionally stable packaging solution can also be sealed with all standard sealing machines.

The new octagonal Top-Seal tray Stackpack is particularly suitable for packaging dry, moist and fatty products thanks to its optionally addable bio-based barrier protection. Depending on the contents, specially coated, plastic-free board qualities can be selected for the tray, for example for moisture-intensive products. The coatings are suitable for direct food contact and can be easily recycled with the tray. This makes Stackpack particularly suitable for sensitive products, such as soft fruits, mushrooms, tomatoes or herbs, and makes it an ideal replacement for plastic trays in the fruit and vegetable sector.

Maximum freshness and hygiene
Lidding films made of thin plastic, a compostable cellulose net or even paper can be used to close the Stackpack tray. The tray itself is completely plastic-free. Top sealing can easily be done on existing sealing machines and therefore does not incur any additional costs. The outside of the tray can also be customised with up to six-colour offset printing.
"With Stackpack, we are closing a gap in the market and offering our customers a sustainable top-seal tray that can be introduced without additional investments for sealing tools. With this, we continue our course as an innovation driver and show how the proportion of plastics in packaging can be significantly reduced through the use of solid board. We see great potential for this, especially in the food industry. Our new product also shows how low material use can be combined with optimal product protection in practice," says Managing Director Hendrik Schumacher.

Available from the first quarter of 2023
With the new Stackpack Top-Seal tray, Schumacher Packaging is expanding its portfolio of sustainable packaging solutions for the food industry: with HALOPACK®, the packaging specialist already produces a MAP protective gas packaging that gives perishable foods such as meat or ready meals a longer shelf life.
Since January, Schumacher Packaging has been the exclusive licensee of Stackpack for the DACH region as well as for the Polish market. The trays will be available during the first quarter of 2023, but customers can already contact stackpack@schumacher-packaging.com for advice on size, colour and possible printing.