Giving gifts from a distance – with spring-inspired gift packaging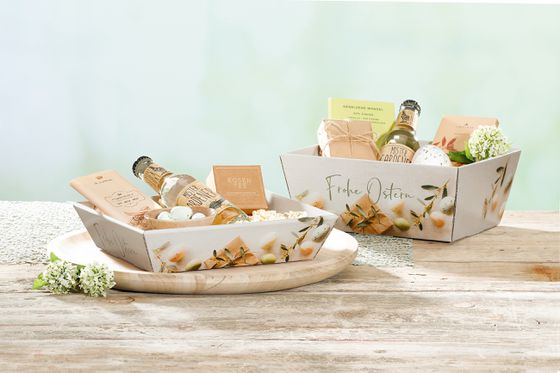 Spring/Summer Special 2021 celebrates the new importance of giving
Ebersdorf bei Coburg, 09 March 2021 +++
With its new special-edition gift packaging for spring/summer 2021, Schumacher Packaging, one of the largest family-run manufacturers of corrugated and solid board packaging solutions (www.schumacher-packaging.com), is highlighting the true value of giving. Those who can't currently meet their family, friends or business partners in person, due to current circumstances, can at least keep in touch from a safe distance with thoughtfully presented gift ideas. "Gifts show others that we value them and we are thinking of them – wherever they may be," explains Anna Schumacher, Member of the Executive Board and Head of Gift Packaging. "This latest brochure highlights the fresh importance attached to the concept of gifting: a personal gift transcends any distance and brings us closer together on an emotional level." All Schumacher gift packaging still carries the "Signed by Nature" logo as a symbol of sustainable production.

Subtle, simple, natural: the new "Frohe Ostern" gift basket
Easter celebrations always have an important place in every Schumacher Packaging spring/summer catalogue. Alongside the "Easter Egg" gift basket made from recyclable single-face board, the packaging specialists are also introducing the new "Frohe Ostern" rectangular gift basket this spring season. This design, which is also digitally printed, is characterised by its light, neutral pastel colours, subtly accentuating the stylish Easter-inspired motif and lending it a natural, sustainable simplicity. The rectangular Easter basket is available in a low-sided and high-sided design, both in size small.
Alternatively, the yellow, orange and green of our vibrant block-colour gift baskets in single-face board reflect the fresh hues of spring. Whether rectangular or hexagonal, these creatively decorated Easter nests prove very popular every year.
For occasions such as Mother's Day, birthdays and weddings, Schumacher Packaging presents the "Heart" gift basket, available in two colours – red and cream – and in two sizes. A coloured embossed heart motif on both sides adds an eye-catching detail.

Single-face board: the classic eco-friendly packaging
Single-face board gift packaging has a lot to offer, both aesthetically and physically speaking. The solid structure makes the packaging particularly robust and provides a very good grip, while also creating a refined look. At Schumacher Packaging, all our single-face board packaging carries the "Signed by Nature" logo, because they are 100% environmentally friendly and recyclable.
That includes the corrugated gift packaging with windows, which subtly awaken interest and ensure a distinctive product experience. The "Style" gift bag, with semi-circular carry handle and some gift boxes provide a sneak peek of what's inside, creating a sense of anticipation and excitement for the recipient of the gift. The elegant gift bag is available in cream, anthracite and now in a natural version too. It is an ideal solution for bottled gifts or small assorted gifts.
The "Triangular Packaging" and "Gift Box with Window" are available in anthracite single-face board. The latter can even be sent by post thanks to its suitable outer packaging. The same is true of the "Small Gift Box", which is ideal for small treats or Bocksbeutel bottles. Schumacher Packaging produces these in single-face board in natural and anthracite colours.

Naturally stylish and sustainable
Designs that are sympathetic to nature remain on trend. Schumacher Packaging's "Country" design range, in warm brown and beige tones and in a popular wicker effect, has the perfect gift box or basket for every occasion, in a variety of sizes. The popular digitally printed "Vintage" range continues to appeal with its attractive wood effect design. "This "Signed-by-Nature" packaging products are manufactured from untreated recycled paper and printed with food-grade inks", comments Anna Schumacher. "Sustainability continues to be a major priority in 2021."

Display bottles in style with versatile three-sided displays
The packaging specialists' latest catalogue also features digitally printed display solutions for bottles. The standard displays consist of a three-sided display with three trays, plus a cover tray. Depending on the size, they hold between 72 and 102 bottles. Printed with food-safe inks, the displays are available in a choice of a classic "Slate" design or in a fashionable "Vintage" wood effect. The minimum order quantity for these is four units.
With no limit to what modern digital printing can achieve, it is now possible to split even large print runs into any number of smaller partial series. This means Schumacher Packaging can enhance any standard display with custom print images, so that it grabs attention at the point of sale – perfect for special Easter or Mother's Day promotions and other seasonal and regional events. The minimum order volume for a bottle display with a customised print image is 52 units.
The Schumacher Packaging Spring/Summer 2021 Special is available to download free of charge (https://schumacher-packaging.com/verpackungen/geschenkverpackungen#Nachhaltig_Schenken) and can also be requested in print on FSC-certified paper (praesent@schumacher-packaging.com).