This year, Schumacher Packaging is celebrating 85 company anniversaries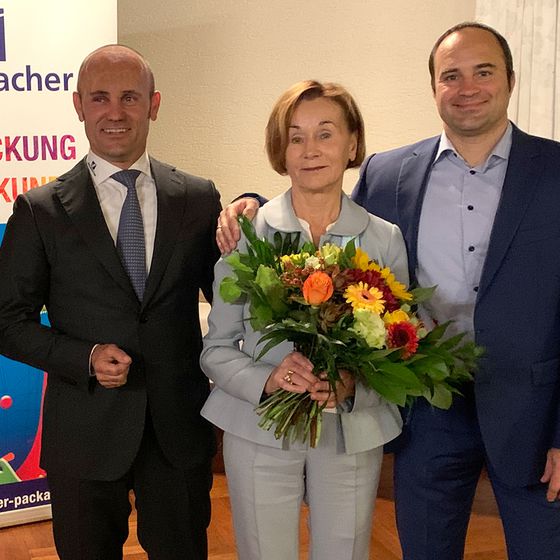 Björn Schumacher (l) and Hendrik Schumacher (r) congratulate their mother, Roswitha Schumacher, on her 50th anniversary at the company
The packaging manufacturer thanks its employees for their team spirit
Ebersdorf bei Coburg, 28 September 2020 +++
This year, the Schumacher Packaging Group, one of the largest family-run manufacturers of corrugated and solid board packaging solutions, is honouring all employees celebrating their anniversaries in the Ebersdorf and Sonneberg plants. In 2020, 85 women and men are celebrating their anniversaries with the company. Special congratulations this year go to Roswitha Schumacher on the occasion of her 50-year anniversary; she has been a key factor in the positive development of the company over the past few decades. "This year in particular has shown how important it is that we, as a team can always depend on each other" emphasises CEO Björn Schumacher. "We would therefore like to thank our employees wholeheartedly for their faithfulness and dedicated commitment."

Despite considerable growth in the past few years, Schumacher Packaging has firmly remained a family business, with flat organisational structures and a real sense of togetherness. "Although the year 2020 has presented us with particular challenges, it is the team spirit and solidarity within the company that makes us strong", notes Björn Schumacher. "That is largely down to our employees and for that, we are truly thankful." Each year, the company management places great importance on honouring the commitment and reliability of long-standing employees with a celebratory ceremony. Therefore, Schumacher Packaging once again extended the invite to the Goldene Rose in Grub am Forst on 25th September 2020. "Unfortunately, due to the current situation, we had to limit our traditional anniversary celebration to a small group" explains Björn Schumacher. "However, all the other people celebrating anniversaries will receive a gift certificate for the Goldene Rose, so that they also will be able to celebrate their anniversary, privately, with a delicious meal."
Half a century in the company – a fitting reason to celebrate
Roswitha Schumacher celebrates a very special anniversary this year. Together with her husband, Wulf Schumacher, she built up the family business into one of the largest packaging specialists in Europe and supported her husband in all his business decisions with advice and assistance. Roswitha Schumacher was responsible for Controlling and Finance within the company. In addition, she was in charge of the training division and for many years sat on the examination board of the IHK (Chamber of Industry and Commerce) for the qualification of industrial clerk. With the takeover of the plant in Bielefeld in 1999, Roswitha Schumacher led the gift packaging division. She continues to support her daughter-in-law, Anna Schumacher, who took over leadership of this division in 2016. With her far-sighted decision-making, Roswitha Schumacher has actively helped shape the company and has played a crucial part in its success. Today, her two sons, Björn and Hendrik Schumacher lead the Schumacher Packaging Group.
Schumacher Packaging congratulates
… on their 40th anniversary with the company:
Ahmet Demirezen, Orhan Polat and Atif Yurdakul, who have been working for the family company for four decades already. Schumacher would like to express our heartfelt thanks for your extraordinary loyalty.
… on their 35th anniversary with the company:
at the Ebersdorf plant, Reiner Kessel, Heiko Reissenweber, Walter Schütz, Cemal Songur and Peter Truschies as well as Elke Baudler at the Sonneberg plant.
… on their 30th anniversary with the company:
Adnan Basal, Andree Bäcker, Mehmet Demirezen, Nurten Demirezen, Mustafa Guevendik, Thomas Höfner, Frank Hucke, Marcus Kihm, Hueseyin Kaygusuz, Cliff Kotschenreuther, Kay Küchler, Horst Leffler, Manfred Mauer, Frank Nowack, Günther Ois, Ihan Polat, Michael Rommeiss, Oliver Schardt, Udo Schellhorn, Steffen Schubert, Fikret Torun and Torsten Welsch – all employed at the Ebersdorf plant – and Henry Cebulla at the Sonneberg plant.
… on their 25th anniversary with the company:
Christian Backert, Thomas von Berg, Jan Chrobock, Joachim Graf, Yakup Guel, Pinar Guevendik, Steffen Heinlein, Lars Kaufmann, Yavuz Kont, Thomas Ksiaziek, Ronny Müller, Steffen Pause, Jens-Dieter Pezold, Petra Pezold, Wolfgang Pleske, Carsten Reuter, Thomas Riedel and Alfred Zettl.
… on their 20th anniversary with the company:
at the Ebersdorf plant, Heiko Am Ende, Ronny Eichhorn, Stefan Friese, Fred Gleichmann, Ingo Jablonski, Heiko König, Alexander Leirich, Waldemar Mitzel, Marko Probst, Denny Schellhorn, Christian Schmidt and Matthias Schöner as well as Frank Drews (Sonneberg plant).
…on their 10th anniversary with the company:
Okan Ataseven, Ronny Bischoff, Julia Fechter, Martin Förster, David Gumpricht, Ulrike Höllein, Marina Koch, Niko Mäusbacher, Christian Menger, Erhan Polat, Anna Schumacher, Alexander Schwarz, Mathias Spichal, Florian Wanner, Joshua Wöhner, Natascha Zitzmann and Christoph Zorn, who remain loyal to Schumacher Packaging at the Ebersdorf plant.
Also celebrating their 10th anniversary at the Sonneberg plant: Martin Fleischer, Christian Hahn, Jana Langhans and Robert Steiner. Schumacher Packaging congratulates you wholeheartedly.
Schumacher Packaging says goodbye to ten employees leaving for a well-earned retirement:
After more than 40 years, the company management team says goodbye to Kurt Sünkel, Ramazan Demirezen and Franz-Peter Beyersdorfer (Ebersdorf plant) and expresses its heartfelt thanks for their many years of loyal service. The same applies to Wolfram Brehm, who has remained faithful to the company for over 30 years. Also looking forward to their well-deserved retirement are: Michael Dörr, Gerald Hetz, Ali Köse, Horst Ölschlegel and Werner Stegner from the Ebersdorf plant and Regina Stauch, who worked at the Sonneberg plant. Schumacher Packaging sends them all their very best wishes!