With Displays, shopping in-store becomes an experience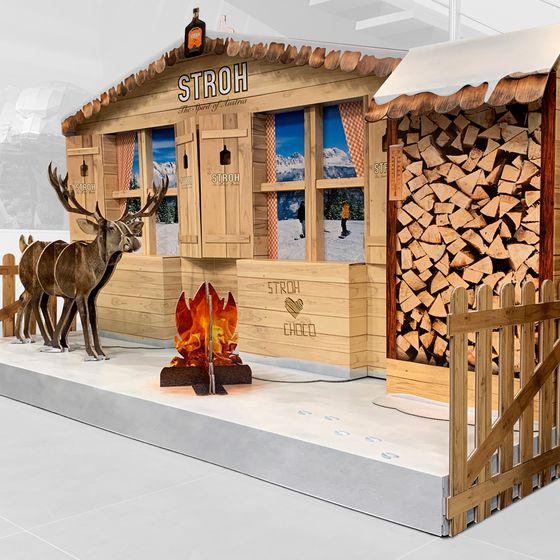 Three tips for POS promotion from the display specialist, Schumacher Packaging
Ebersdorf bei Coburg, Breda; 01 September 2020 +++
Stationary retail has not had an easy year: Panic buying, distancing regulations and compulsory mask-wearing have had a significant impact on shopping in-store. Many brand manufacturers now face the challenge of boosting sales in stationary retail and find ways to inspire customers to shop in person again. Secondary placements for the point of sale (POS) can make a valuable contribution here. Schumacher Packaging, one of the largest family-run manufacturers of paper-based packaging solutions and displays demonstrates what this looks like in practice – with the following three tips.

Tip 1: Simply transform standard displays
Modular displays are particularly well suited to reviving the POS promotion as simply as possible. Based on the CHEP 600 x 400 mm quarter pallet, the System-Display from the Schumacher Packaging Group at the Breda site in the Netherlands offers a multitude of individually combinable components. Depending on the size of the products, stackable trays, dispensers, chute pallets or hooks can be combined in various ways with casing and a top sign. The system display is therefore suitable for the presentation and bulk sale of almost all goods – whether light, heavy, standing or lying down.
This kind of secondary placement also wins out on price and delivery time as there are no development times or tool costs. The display is individually printed, depending on the product and promotional campaign, which is why it is a favoured option as a cost-effective secondary placement both for small to medium-sized businesses and for large, renowned brands.

Tip 2: Create tailor-made promotional campaigns through digital printing

Currently, many brand manufacturers are working more intensively on new campaigns to help them be more targeted in encouraging shoppers to make a purchase in-store. With the innovative digital printing technology at Schumacher Packaging, it is possible to split identical display print runs into partial series and furnish them with different print images for varying seasonal, regional and occasion-related POS campaigns.
This way, even smaller campaigns like competitions or seasonal mini-events such as Halloween can be real attention-grabbers at the point of sale. Using different display themes, the same product can be advertised throughout the year, continually drawing fresh interest from buyers. From Valentine's day to Easter and Mother's day right through to "Back to school" and Christmas - chocolate is pretty much always in season and offers countless opportunities for your display to generate the "wow" factor.
Brand companies can therefore organise many smaller POS campaigns right through to the end of the year - they simply select a display model and divide it into smaller print runs with the appropriate theme for the campaign. As there is no need for printing plates or blocks, there is also no need for their manufacture or disposal. This protects the environment, reduces costs and gets new promotions into shops quickly.

Tip 3: Special promotional campaigns through theme worlds and life-size displays
Many products from the food, confectionery and beverage sectors, and even barbecue accessories and pet supplies, were in great demand during the lockdown. However, spending has diminished significantly in stationary retail. Even though shopping on the Internet is less personal and you can't see the product in the flesh, try it on or feel it, many consumers have switched to online shopping. In order to reverse this trend, or at least to counteract it, you need a promotion that will really pack a punch at the POS - large installations such as the chocolate boat, the Coca-Cola bottle or elaborately designed displays that provide a special kind of shopping experience. These are important brand ambassadors that truly captivate the buyer at the POS. If this promotion is accompanied by online advertising on social media, for example, then perhaps those first steps towards in-store shopping are not too far away. These unique displays are developed and manufactured in the creative workshop at Schumacher Packaging in Breda. Whether it's a counter display, promotional campaign or retail theatre display - with individually designed secondary placements, brand companies leave a lasting impression with the shopper and provide crucial incentives to buy.

Boosting sales with sustainable displays
Increasing sales through "analogue" shopping needs more than a reduction in VAT. The challenge is to remind customers of the benefits of stationary trade and address them on an emotional level. The aim should be to impress them with the variety of products, inspire them and satisfy their desire for sustainability. Ultimately, in-store shopping gives you the opportunity to experience products live. Visually appealing displays attract much more attention than on-shelf products, which are always in competition with other products. If, then, the displays are also made out of recycled corrugated board, the brand will hit the spot for all those customers who want to live a more conscious, responsible life. In accordance with packaging legislation, Schumacher Packaging supports brand companies with "extended product responsibility" and ensures that the displays can return to the raw materials cycle. In contrast to other materials, paper-based displays are environmentally friendly in that they can be easily recycled, which reduces disposal costs. In addition, they are lightweight and therefore easy to transport and assemble. Their sturdy design and robust surface enable them to withstand the entire promotional period. State-of-the-art digital printing allows you to print high-quality natural looking designs, such as woven structures, wood or stone-look finish. This enables you to create original designs to fit seasonal or regional peculiarities and at the same time, emphasise the sustainability aspect. This really appeals to consumers and makes them more likely to identify with a product.

Packaging specialist offers display e-book to download free of charge
As an expert in displays and co-packing, Schumacher Packaging is offering the e-book "In first place with secondary placements – Why displays and promotional packaging do well at the POS", including the latest trends and check lists, as a free downloadhttps://schumacher-packaging.com/verpackungen/displays/verkaufsfoerderung .