Even more personal: Gift packaging from Schumacher Packaging evoke emotions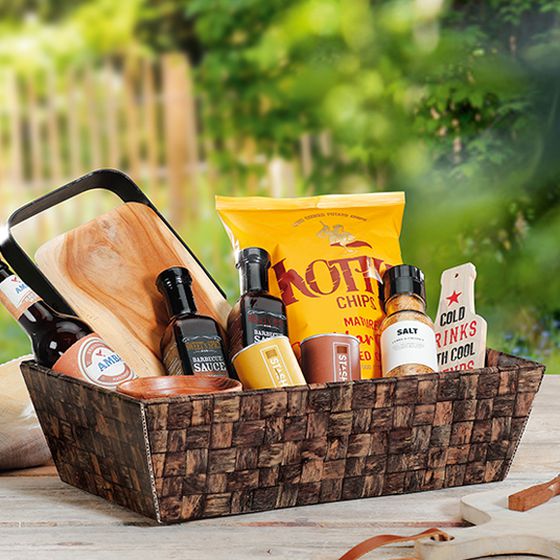 The 2020/2021 collection focuses on contemporary and sustainably produced designs
Ebersdorf bei Coburg, 08 June 2020 +++
With its new gift packaging collection for 2020/2021, the Schumacher Packaging Group – one of the largest family-run manufacturers of corrugated and solid board packaging solutions (www.schumacher-packaging.com) – is making the act of giving gifts a very special experience. From festive gift boxes and neutral, non-seasonal gift packaging and baskets through to elegant gift bags - The packaging specialist is offering more than twenty new products in a variety of styles for the coming season. A large number of them are additions to the "Signed by Nature" series, which combines contemporary aesthetics with high ecological standards. "Sustainability remains a trend", explains Anna Schumacher, Member of the Executive Board and Head of Gift Packaging. "But this year, emotions also play a major role, as we have all had to do without personal contact with precious loved ones. Our contemporary gift packaging expresses the joy at seeing someone again and showing your appreciation for them."
Magic moments and best wishes for the festive period
For many of us this year, expressing our appreciation to our family, friends and business partners will be more important than ever before. The elegant "Best Wishes" gift box is adorned with hot-foil embossed golden lettering, contrasting with the matt-black background and cleverly drawing attention to the Christmas tree motif in golden and silver tones. Whether it's wine or champagne - You can send your "Best Wishes" in the form of two or three bottles, each in their own suitable outer packaging, which can be sent in the post.
Of this year's Christmas motifs, it is the "Frohes Fest" design which takes on the contemporary element from the sustainable "Signed by Nature" series. Its look, which recreates the charm of an Alpine hut, is produced using innovative digital printing and food-grade inks, creating a warm and homely atmosphere. Choose between the gift box, which is available in two sizes, and the small present box. All of these designs can be sent in the post thanks to their suitable outer packaging.
Another new festive product showcased by Schumacher Packaging is its new "Christmas Royal" series of collapsible boxes for one, two or three bottles in traditional offset-printed shades of red. "A highlight here is their modern decoration consisting of glittering stars and snowflakes which seem to rise out of the packaging thanks to their 3D effect," says Anna Schumacher.
To make sure your reunions over the festive period turn into real magical moments, Schumacher Packaging offers you the "Sternstunde" gift basket made from single-face board in a natural colour, with shining golden stars glinting from each of its four sides. The gift basket is available in three sizes, with the large version also coming with die-cut handles.

Sustainable and inspired by nature
The new "Country" motif series stands out thanks to its completely natural look. The contemporary woven structure in warm brown and beige tones makes quite an impression, particularly as it looks so three-dimensional. Whether it's the rectangular gift basket available in three different sizes or the gift box for one to three bottles, the "Country" style à la "Signed by Nature" provides unforgettable and sustainable gift experiences all year round.
In recent years, Schumacher Packaging gift packaging collections have always included a new product from the highly successful "Vintage" line. Accordingly, the specialist packaging manufacturer will now also be making its popular hexagonal gift basket made from untreated corrugated board available in the "mini" size. Its attractive wooden motif is suitable for any occasion. Digital printing technology is used to make the motif look deceptively real, both from a visual and tactile perspective. Made of untreated recycled paper and printed with food-safe inks, the "Vintage" gift basket is also 100% eco-friendly and recyclable – which, it goes without saying, is typical of the "Signed by Nature" series. "We are again making a clear statement when it comes to sustainability," reiterates Anna Schumacher.

Environmentally responsible with single-face board
Schumacher Packaging knows exactly how to spark people's interest. Its present boxes and "Style" carrier bag include a window to provide a view of what is hidden inside and to give a taster of the actual present. All of the "Signed by Nature" products, which are made from single-face board, impress customers with their natural-looking appearance.
The elegant carrier bag with a semicircular carrying handle is perfect for holding a bottle or assorted gifts and is now available in a natural colour. The "Triangular Packaging" and "Gift Box with Window" are available in a charcoal grey single-face board. The latter can even be sent by post thanks to its suitable outer packaging. This is also true of the "Small Present Box", which Schumacher Packaging is now also making available in natural or charcoal grey single-face board. It is ideal for little treats, assorted gifts or a Bocksbeutel wine bottle.

Show your recognition and appreciation at attractive prices
Whether it's for family or business, if you want to create a more personal and emotional gift experience, you're bound to find what you're looking for in the Schumacher Packaging 2020/2021 gift packaging collection. Our varied range of new products provides the right packaging for any occasion and gift, while also showing your appreciation for the person receiving the present in a contemporary way. "Aesthetic gift packaging which is also environmentally friendly continues to be in high demand", says Anna Schumacher. "And beauty and sustainability don't have to be expensive - indeed, our "Signed-by-Nature" packaging is available at attractive prices. After all, gift giving is primarily about the gesture; that is, to bring joy to the recipient.

Catalogue available from mid-August
Schumacher Packaging will make the 2020/2021 catalogue, including the current collection and all new products, available to download free of charge from www.schumacher-packaging.com from mid-August.