The innovative EcoSafeBoard from Schumacher Packaging protects customers, employees and the environment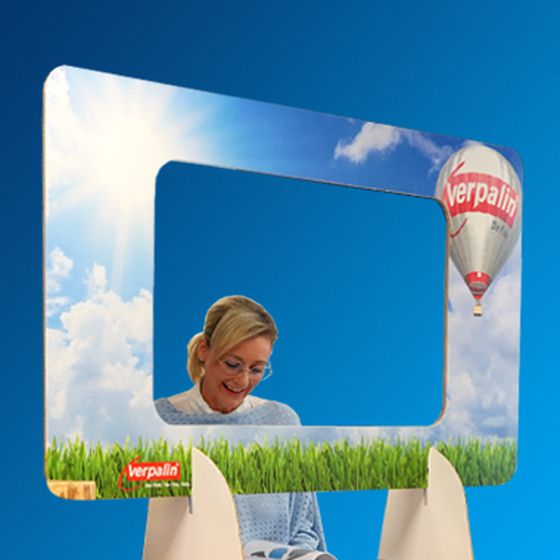 Packaging specialist is creating sustainable coronavirus partition walls
Ebersdorf bei Coburg, 26 May 2020 +++
Schumacher Pack Solution GmbH, a Schumacher Packaging Group company (www.schumacher-packaging.com), has developed an innovative sneeze guard made of corrugated board with window. The EcoSafeBoard enables companies in a wide range of sectors to host a larger number of customers, even in times of epidemic diseases. These novel partition walls are particularly useful for the hospitality and service industries, as well as for industrial applications. The flexible corrugated boards can be set up on tables and floors as well as hung from ceilings. However, the EcoSafeBoard not only protect customers and employees but the environment, too - 100% recyclable, the partition walls can be easily disposed of in an environmentally-friendly manner. "This means that the EcoSafeBoard offers a more environmentally friendly and cost-effective alternative to conventional protective walls," explains Jochen Drösel, Chief Sales Officer (COS) at Schumacher Packaging, one of the largest family-run manufacturers of packaging solutions made from corrugated board and solid board.
Mobile partition walls are a practical tool for reducing risk of infection during epidemics such as the current coronavirus pandemic. Many companies currently rely on plastic or Plexiglass solutions. Schumacher Pack Solution now offers a paper-based alternative - the frame of the EcoSafeBoard consists of 100% recycled paper and is fully recyclable. The window film can also be removed easily and disposed of at lightweight materials collection facilities, and the remaining parts of the partition wall are disposed of as used paper. This means that the EcoSafeBoard is a creative, environmentally friendly alternative to plastic and glass.
One standard – five solutions
The EcoSafeBoard is available in standard dimensions of 630 x 1180 mm in horizontal and vertical format. The window, made of window film enclosed by the corrugated board frame, is transparent and enables safe visual contact. Thanks to the push-together system, the EcoSafeBoard can be set up as a floor stand between tables and seating facilities or positioned on tables as a protective wall. To enable this, feet made of corrugated board are available in two different heights. The partition wall is additionally available in a hanging format, enabling the floor to be kept clear. "It is quick and easy to set up and keep people safe – which is why the EcoSafeBoard is used in many different sectors," explains Leena Gaebler, managing director of Schumacher Pack Solution GmbH. "In restaurants and beer gardens, it is used as a partition wall on and between tables to ensure protection of guests and enable better use of the available space. In industrial buildings and office spaces, it enables workstations to be safely isolated without needing to forego personal interactions and teamwork."
EcoSafeBoard tested successfully
Restaurateurs and hairdressers who were given the opportunity to test the protective wall are impressed - "After so many weeks of nothing, we are looking forward to being able to welcome more guests and the authorities are equally convinced by the solution", report Sarah and Maria Franz from the "Prinzengarten" beer garden in Coburg. Marco Murlot, hairdresser in Bamberg, adds: "The boards with a gold frame fit in perfectly with our interior design. They provide protection without seeming sterile, which is something that our team and customers particularly appreciate."
Responsible and stylish
The EcoSafeBoard comes in five design variants as standard: neutral white, slate and steel effects, a rustic vintage wood look and a classy golden colour. The window consists of clear window film. "Unlike protective walls made of plastic and Plexiglass, EcoSafeBoards have style," explains Leena Gaebler. "Businesses and companies can choose whichever of the five designs best suits their location." At purchasing quantities of 200 units or more, the boards can be customised with any design the customer likes. This means that brand manufacturers can also use the protective walls as advertising space at sales locations. The EcoSafeBoards are produced using a modern digital printing process that ensures a high-quality look.
Available to order online from 1st June
The EcoSafeBoards are available in packaging units of five units or above, at a net price per unit from 35 euros. Further information about the price lists and shipping conditions can be found in our new online shop under eco-safe-board.com as soon as sales are officially launched.