Spring/Summer Special 2020 from Schumacher Packaging:

Bringing colourful sustainability to gift giving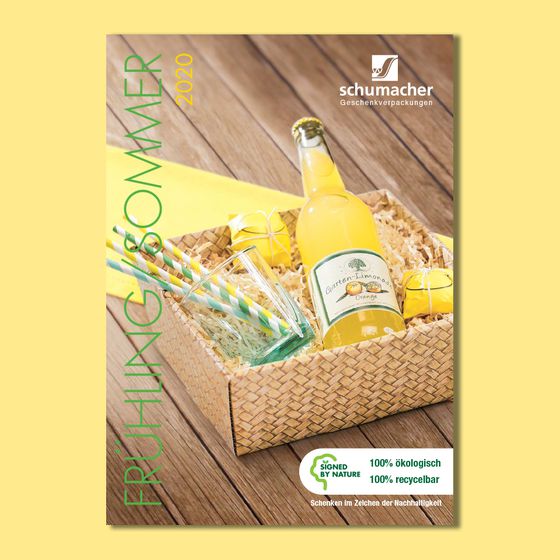 Our "Signed by Nature" gift packaging is 100% environmentally friendly and recyclable
Ebersdorf bei Coburg, 10 March 2020 +++
The latest Spring/Summer 2020 special-edition gift packaging is a symbol of Schumacher Packaging's commitment to sustainability. All the products in the new brochure carry the "Signed by Nature"| logo, because they are 100% environmentally friendly and recyclable. "Our packaging combines true sustainability with high aesthetic standards," explains Anna Schumacher, Member of the Executive Board and responsible for the gift packaging division at the company. "We produce all Signed-by-Nature motif series using environmentally friendly raw paper, on which we print using food-grade inks. "This means we can create attractive gift packaging that is 100% natural." Schumacher Packaging is at the forefront of innovative digital printing, which is currently the most environmentally friendly and flexible of all the printing processes, as absolutely no printing blocks or printing discs are needed. Nevertheless, digital printing technology still produces vibrant multicoloured print images, even on surfaces made from recycled paper material. "Our gift packaging special shows that truly sustainable gift packaging doesn't always have to be brown, but can feature really vibrant colours,", explains Anna Schumacher.
The new Spring/Summer 2020 Special, with many sustainable gift packaging ideas, is available as a free PDF download (https://schumacher-packaging.com/verpackungen/geschenkverpackungen#Nachhaltig_Schenken) or in paper format, printed on FSC-certified paper (praesent@schumacher-packaging.com).
Fresh colours for Easter and Mother's Day
Of course, the Spring/Summer Special from Schumacher Packaging would not be complete without Easter and Mother's Day themes. The collection contains several packaging ideas, each one sustainable and attractive. The "Ostereier" gift basket is made from recyclable single-face board and is printed digitally with Easter motifs. A particularly sought-after item is our single-coloured gift basket made from single-face board, which is available in a variety of shapes, sizes and enticing fresh spring colours, from yellow to green and orange. Both the "mini" size, which comes in the form of a hexagon and is lower at the front, and the "small/flat" rectangular version are perfectly suited for use as an Easter basket. These are complimented by the paper bags from our "Aspekt" series, which feature a window and are available in three different sizes. For occasions such as Mother's Day, birthdays and weddings, your packaging specialist is offering the "Herz" gift basket, available in two colours – red and cream – and in two sizes. A coloured heart motif on both sides places the theme centre stage.

Woven look "Rustika" gift baskets
The gift baskets from the new "Rustika" series stand out with a deceptively real looking motif of light-coloured woven seagrass. The design not only honours our commitment to the environment, but can also be used throughout the year regardless of the season. "Nowadays, presents should not only suit the recipient; they should also demonstrate environmental awareness", explains Anna Schumacher. "Gift packaging must therefore look good and also be environmentally friendly." The new "Rustika" gift baskets by Schumacher Packaging are made from 100% recyclable materials. The series includes a hexagonal version, which is slightly lower at the front, and a rectangular gift basket – both of which are available in three different sizes. "Rustika" also comes in a low-sided version in two different sizes.

New "Vintage" carrying boxes for gourmet glasses
New additions to the popular "Vintage" series are the two-piece and three-piece carrying boxes with integrated window and gourmet glasses in two sizes. Made from natural corrugated board, digital printing adds an impressive touch to the series with a wood grain effect that both looks and feels realistic. Other highlights from the "Vintage" line include gift boxes with and without a window, collapsible boxes, carrying boxes and gift baskets.
Standard displays: sustainable, flexible and individual
The Spring/summer 2020 Special from Schumacher Packaging introduces display solutions for bottles. Innovative digital printing with food-grade inks lends the displays a "Vintage" wooden or "Slate" look. The standard displays consist of a three-sided display with three trays, plus a cover tray, and hold between 72 and 102 bottles, depending on the size. The minimum order volume for standard displays in "Vintage" or "Slate" is four units. Modern digital printing also opens up highly flexible design options not possible with either flexographic or offset printing, as digital printing allows larger print runs to be split into partial series. In this way, Schumacher Packaging can decorate standard displays with individual print images – for special Easter promotions or for white wine during asparagus season, for example. The minimum order volume for this kind of bottle display with completely individual print images is 52 units.