Schumacher Packaging shows how to make your customers "shriek with joy" even louder than before
Internet World Expo:

Schumacher Packaging shows how to make your customers "shriek with joy" even louder than before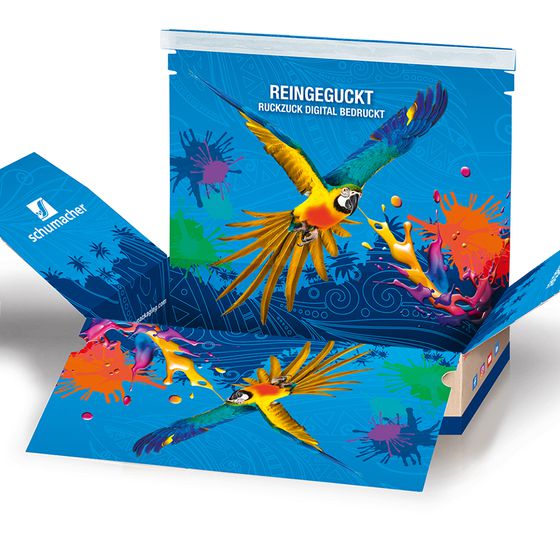 Attractive e-commerce packaging for unpacking experiences with the wow factor
Ebersdorf bei Coburg, 06 February 2020 +++
The Schumacher Packaging Group, one of the largest family-run manufacturers of corrugated and solid board packaging solutions (www.schumacher-packaging.com), will present trends and innovations in the e-commerce packaging sector at the Internet World Expo in Munich (10th-11th March 2020, Hall C6, Stand B 015). The company is among the leading experts in e-commerce corrugated and solid board packaging and has over 30 sites throughout Europe. Schumacher Packaging supplies shops of all sizes with its packaging solutions – from small start-ups to the biggest online retailers. The appearance at the trade fair will focus on four essential topics: the "unboxing" experience, logistics and process support, consultation and innovation, and the diversity of solutions available. Experts from Schumacher Packaging will talk to trade fair visitors at the stand about the immense potential of e-commerce packaging with numerous example cases.
Unboxing experience: The moment of physical contact with the customer

When a customer receives a delivery and opens their package, this is the only moment of physical contact between the retailer and their customer and retailer. However, many online retailers do not exploit the possibilities for advertising and communication to their full potential with their dispatch packaging. This is where retailers can create unpacking experiences with the wow factor that lead to that famous "shriek with joy" when a parcel arrives. Schumacher Packaging's modern mass-volume digital printing makes it possible to print attractive and high-quality packaging, with designs on the inside and the outside. Using innovative technology, the packaging specialists can even print colour photo motifs onto cost-effective, uncoated recycled paper – where conventional methods such as flexo or offset printing would struggle. Furthermore, packaging print runs can be split into partial series, with different, seasonal motifs, or designs for special campaigns according to your preferences. Modern digital printing is both the most flexible and the most sustainable printing process, since none of the motifs require their own printing plate. Schumacher Packaging demonstrates how packaging can impress customers with attractive, eye-catching designs. Online retailers can therefore use their dispatch packaging as an effective tool to increase customer loyalty.

The right packaging optimises picking and logistics

Packaging opens up huge marketing potential, even though the world of e-commerce all to often considers it nothing but an expense. Many online retailers have little idea how much they actually spend on their packaging. Alongside packaging unit costs, process and logistics costs also play a key role. How time-consuming is erecting, filling and sealing packaging? The right packaging can be conducive to smooth intralogistics with online retailers, lead to fast fulfilment and ensure safe transport of goods. This is why, for example, Schumacher Packaging attaches consecutive barcodes to both storage and shipping boxes, thanks to its innovative digital printing. This enables online retailers to optimise their picking process and guarantees that shipping labels are clearly assigned to the shipping boxes when they are finally filled and sealed.

Consulting for the whole dispatch chain and APASS advice
A range of consulting services is also an important topic for Schumacher Packaging at the trade fair. The packaging specialists advise online retailers on their entire value-added chain and dispatch chain. From large boxes made from one material with a corrugated board base – as a substitute for conventional transport containers – to shelf boxes, storage boxes and size-optimised dispatch packaging. In this respect, better, more efficient handling is just as important as reducing costs, such as standardising and clustering packaging suitable for posting. Additionally, Schumacher Packaging is a member of the "Amazon Packaging Support and Supplier Network" (APASS) and teaches companies how to design and test their product packaging in accordance with Amazon packaging guidelines. Selling products on Amazon according to the "Ships-In-Own-Container" model (SIOC) – i.e. in its own product packaging without an extra overbox – saves costs that Amazon would otherwise charge for all "non-sortable items".

Packaging diversity for your every need

Schumacher Packaging sees the diversity of packaging needs in the sector as the fourth major topic at the Internet World Expo. The solutions are almost always customer-specific. This is reflected in the varied nature of the product range from the e-commerce specialist, from manual or automated packaging and fanfold corrugated board, through to special design solutions and versions that tear open and fasten shut. Whether the key focus for the online retailer is protection against theft or scalability and no matter what is being delivered - be it an e-bike, a mattress or a bouquet of flowers, Schumacher Packaging will demonstrate the ideal packaging solutions at the Internet World Expo.