Where the apprentice
really
matters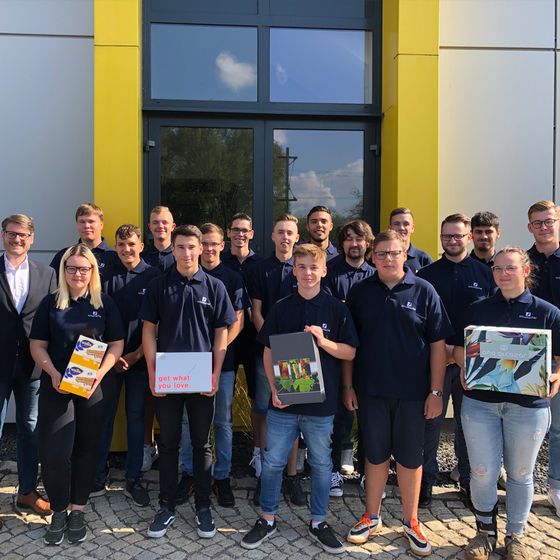 Schumacher Packaging apprenticeship begins in 2019
Ebersdorf bei Coburg, 3 September 2019 +++
Do you want to make a difference during your apprenticeship, be appreciated and receive recognition? In some apprenticing firms, this is rather rare but in others it is almost the rule. At Schumacher Packaging, the family-run manufacturer for packaging solutions made of corrugated and solid board, headquartered in Ebersdorf bei Coburg, 27 young people will start their apprenticeships at the beginning of September in a wide variety of professions. Including the new apprentices, a total of 81 young people will be undergoing training at Schumacher Packaging in September. "There is a simple reason why we take the topic of training so seriously and are happy about the interest in our vacancies every year," says Bernd Köbler, Head of Training at Schumacher Packaging. "Because we are a rapidly growing company, we see our apprentices as our future. With us, apprentices have prospects."

From today's apprentices to tomorrow's professionals

"We want to use our diverse training programmes to secure tomorrow's professionals," explains Bernd Köbler. For example, Sven Schoppa graduated last year as a professional driver at the Coburg Chamber of Industry and Commerce with the best results – and is now very happy to continue his career with Schumacher Packaging. A very important goal is to enable the apprentices to work independently. Christoph Koock, Head of Product Development at Schumacher Packaging, would not want to be without his trainees - "I really love working with apprentices because their minds are free of restrictions. Our apprentices' creativity often develops wonderful ideas."

From nothing to developers

For example, the idea for the now award-winning, e-commerce packaging "L-Folder" came from a budding technical product designer specialising in product design and construction. "I had given our apprentices a task on e-commerce packaging, and Jan Feuerpfeil came up with the idea of replacing the usual T-shaped book packaging with an L-shaped one," reports Koock. "There was a minimal amount of fine-tuning to be done, but 98% of the L-folder is from him." Due to its innovative shape, the folder can be produced in a material-efficient and resource-conserving manner. It varies greatly in size and prevents unnoticed opening. Schumacher Packaging promptly won second place at last year's "Corrugated Board Innovation Awards" with this new e-commerce packaging. "The next great apprentice idea we're working on comes from Anabel Wintermud," says Koock. It is a special stool made of corrugated board." However, the head of development cannot reveal any more.

Various apprenticeship positions.

The Schumacher Packaging Group is again filling vacant apprenticeship positions at many German locations this year. The lion's share of the 27 new apprentices starts at the main plant in Ebersdorf, but the plants in Forchheim, Bielefeld, Greven and Schwarzenberg also train some apprentices. The young men and women have opted for a wide variety of apprenticeships at Schumacher Packaging: Industrial Clerk, Freight Forwarding and Logistics Services Clerk, IT Specialist for System Integration, IT Specialist for Application Development, Media, Digital and Print Media Designer, Industrial Electronics Technician, Industrial Mechanic and Professional Driver.

Your own role in the company.

"Our goal is to provide high-quality training that challenges and encourages young people," says Köbler. "And so that everyone quickly feels at home, we always start with joint introductory days. These days support the apprentices in getting to know each other, strengthening team spirit and giving them an initial overview of the company." The new apprentices are also allowed to implement a first project as an introduction. They have to create a product presentation, and find out and explain their own role in the value creation process. This also makes it clear that Schumacher Packaging takes apprentices seriously.

Work placements and apprenticeships

Anyone interested in the Industrial Clerk 2020 training course has until the end of October 2019 to apply to Schumacher Packaging. The packaging specialist also offers work experience to school children as well as other short work placements. More information is available on the company's website: more...