Sustainable gift packaging from Schumacher Packaging –

more variety than ever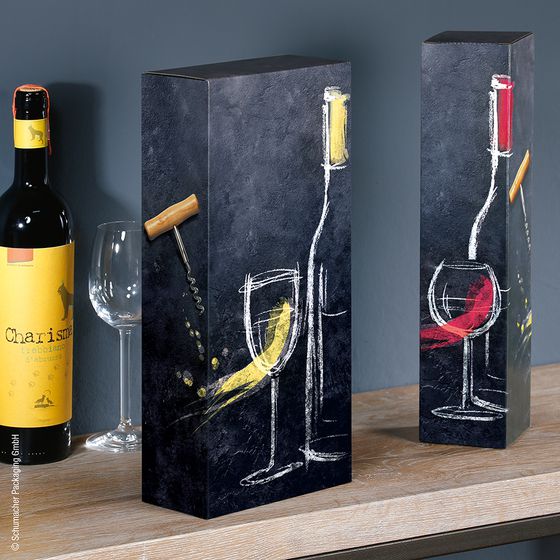 2019/2020 gift packaging collection with 12 new motif series
Ebersdorf bei Coburg, 19 July 2019 +++
The Schumacher Packaging Group, one of the largest family-run manufacturers of corrugated and solid board packaging solutions, is offering more variety than ever before with its 2019/2020 gift packaging collection. The 12 new motif series for gift boxes, collapsible boxes and gift baskets combine sustainability with an appealing design. "Neutral gift packaging that can be used for all seasons is particularly popular at the moment", reports Anna Schumacher, Member of the Executive Board at Schumacher Packaging and responsible for the gift packaging division. "This type of gift packaging can be used universally and for any occasion. Our motif series with a slate or woven look are also very much in demand." The packaging expert is also offering a number of new versions of the successful "Vintage" series. Here too, the deceptively real looking wooden look is created by digital printing with food-grade inks.
Sustainable giving with "Signed by Nature"
The completely environmentally friendly gift packaging from Schumacher Packaging is once again a clear statement in favour of sustainability this year. This does not just apply to series like "Slate" or "Vintage". The gift baskets of the new "Rustika" series also underline this approach: the innovative digital printing technology gives them their deceptively real-looking wicker basket effect. "Anyone giving gifts these days, does so with consideration and conviction", explains Anna Schumacher. "Gifts should fit the person they are intended for and demonstrate ecological awareness. Gift packaging must therefore look good and be environmentally friendly." The new "Rustika" gift baskets by Schumacher Packaging are made from 100% recyclable materials. The series includes a hexagonal version, which is slightly lower at the front, and a rectangular gift basket – both of which are available in three different sizes. "Rustika" also comes in a low-sided version in two different sizes.
"Vintage" remains versatile
The "Vintage" series, made from natural corrugated board, is just as popular as ever. Thanks to innovative digital printing, "Vintage" deceives the eye with the unique look and feel of wood - sustainable gift packaging for any occasion and every season. The new versions include carrying boxes with die-cut windows for one, two or three bottles. Smaller carrying boxes for up to three jars of gourmet items are now also part of the "Vintage" range. In addition, there is a large gift box for up to six bottles, which is suitable for delivery by post in combination with the matching cover box. Highlights at the point of sale are the newly designed and very stable "Vintage" and "Slate" bottle displays. These make it possible to perfectly present up to 102 bottles of wine.
Give in style this Christmas
During the most wonderful time of the year, the new "XMAS" and "Merry Christmas" series guarantee that gifts are a joy to give and receive - thanks to their sustainable nature and appealing design. The gift boxes, which can be sent by post, enchant customers with digitally printed Christmas motifs, are 100% eco-friendly in terms of material, production and inks, and come in a range of sizes to hold two or three bottles. The new, atmospheric "Winterwald" series is available in even more versions: collapsible boxes for one, two or three bottles and rectangular gift baskets in two different sizes. High-quality offset printing brings out the sparkling Christmas star in the night sky perfectly. "Edle Weihnacht" translates as "Classy Christmas" and this elegant gift packaging certainly lives up to its name. Schumacher Packaging enhances this offset-printed, anthracite gift box with golden Christmas trees by using luxurious hot foil embossing. The gift box is available in two sizes and can be sent by post in combination with the matching cover box.
Elegance throughout the entire year
The new 2019/2020 collection also sets new trends when it comes to elegant finishes: the neutral motifs are perfect for giving gifts in style, throughout the year. "Champagner" is a series of luxurious gift boxes in elegant black and a special gold glitter lacquer finish for one or two bottles of champagne. The "Opus" gift boxes for one to three bottles of wine feature a similarly refined finish. Both series are suitable for delivery by post in combination with a cover box. The new "DiVino" gift packaging for one, two or three bottles of wine is also suitable for all season. High-quality offset printing and partial gloss lacquer give it a slate look, with a red wine motif on the front and a white wine motif on the back. The "Primo" gift box made from cream-coloured single-face board isn't tied to any particular time of year either. It impresses with elegant hot foil embossing in gold and comes in a range of sizes to hold up to three bottles.
Catalogue available from late August
The 2019/2020 Schumacher Packaging catalogue featuring the current collection and all new gift packaging will be available to download free of charge at www.schumacher-packaging.com from late August.