Schumacher Packaging honoured with the

BAYERNS BEST 50 award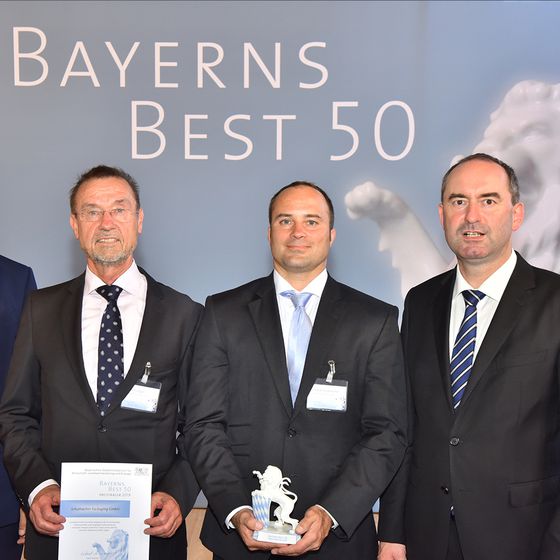 Bavarian Minister of Economic Affairs pays tribute to the fastest-growing SMEs
Ebersdorf bei Coburg, 29 July 2019 +++
The Schumacher Packaging Group, one of the largest family-run manufacturers of corrugated and solid board packaging solutions, headquartered in Ebersdorf, Upper Frankonia, received the BAYERNS BEST 50 award from the Bavarian Minister of Economic Affairs this year. The award ceremony took place on 22nd July 2019 in Schleißheim Palace, north of Munich. Hendrik Schumacher, a member of the Schumacher Packaging Group management team, and Norbert Hager, who was Sales Director for many years, accepted the award from the Bavarian Minister of Economic Affairs, Hubert Aiwanger. BAYERNS BEST 50 is awarded by the Bavarian Ministry of Economic Affairs to the medium-sized companies from Bavaria which have proven to have particularly strong growth, and whose number of employees and turnover have increased at an above-average rate over the past five years.
Organic growth from year to year

In the last financial year, 2018, Schumacher Packaging Group generated a turnover of EUR 627 million with over 3,300 employees. Five years earlier, in 2013, the company still had 2,300 employees and a turnover of EUR 425 million. "As an owner-managed company, we have long pursued a strategy of organic, sustainable growth," explains Norbert Hager. "This constant expansion has shaped our development for years. We have always remained true to our values. We are committed to people, to the environment, and we see ourselves as the innovation and productivity leader in the industry," continues Hager. "For example, we were the first packaging manufacturer to introduce modern industrial digital printing, with food-compatible inks, for large runs."

The strong owner-run company

"We were delighted to receive the award from the Bavarian Minister for Economic Affairs – it is an honour to count ourselves among BAYERNS BEST 50", says Hendrik Schumacher. "I believe that medium-sized companies, especially those that are owner-managed, show special commitment, a sense of responsibility and innovative strength. This is exactly what the Ministry of Economics honours with its award. It is a nice acknowledgement of our own work and that of all the award winners."

Consistent investment activity

Today, the packaging specialist from Ebersdorf has plants all over Germany and also in some neighbouring European countries. Five years ago, Schumacher Packaging won the NRW.INVEST AWARD 2013: The family-owned company had built a brand new corrugated board plant at FMO AirportPark in Greven, in the immediate vicinity of Münster-Osnabrück international airport and created jobs there, too. "Our organic growth is based on our investment activities at all sites, both existing and new," explains Hendrik Schumacher. "Our investment strategy for the next four years totals EUR 200 million."

BAYERNS BEST 50 – An award with tradition

Every year since 2002, the Bavarian Ministry of Economic Affairs, Regional Development and Energy has awarded prizes to small and medium-sized entrepreneurs who identify new opportunities for growth and employment and make consistent use of them as BAYERNS BEST 50. From the regional government's point of view, entrepreneurs are the backbone of the economy because they live and breathe entrepreneurship, assume responsibility and create the jobs that form the basis for the high standard of living in Bavaria. This year, Peters, Schönberger & Partner GmbH was entrusted with selecting the 50 winners independently, neutrally and according to objective criteria.