In 2021, Schumacher Packaging is celebrating

almost a hundred company anniversaries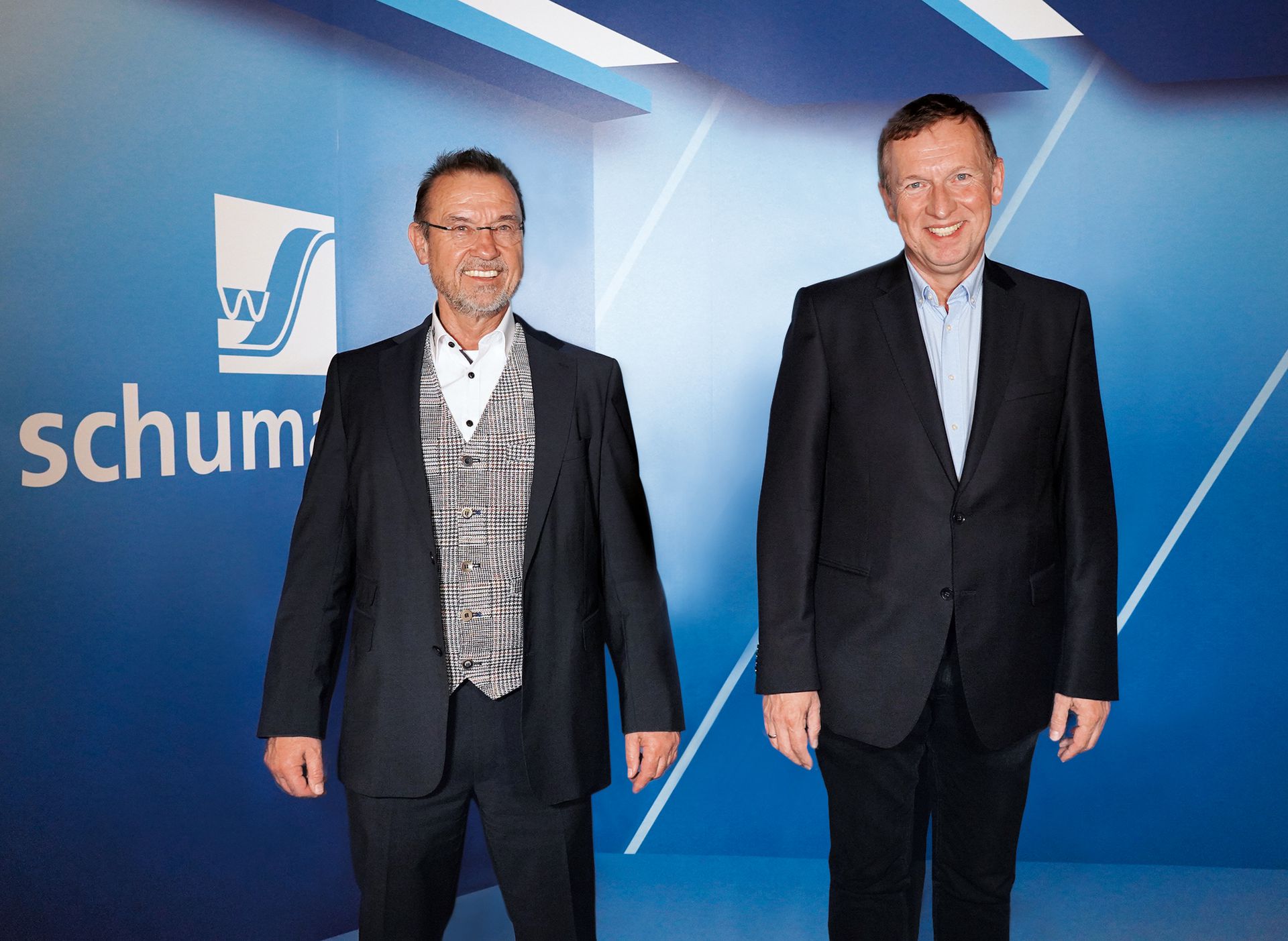 Packaging manufacturer pays tribute to employees for their loyalty and tireless work

Ebersdorf bei Coburg, 27th September 2021 +++
The Schumacher Packaging Group, one of the largest family-run manufacturers of packaging solutions made from corrugated board and solid board (www.schumacher-packaging.com), is celebrating its company anniversaries: As part of the traditional anniversary celebration on 24th September in Grub am Forst, the company management thanked all 98 men and women for their many years of loyalty and great level of commitment. This year, particular thanks goes to Uwe Kihm, registered manager at Schumacher Packaging and head of the Greven plant, who is celebrating his 45th anniversary. "Our success as a company would not be possible without the steadfast dedication and unwavering team spirit of our employees," stresses CEO Björn Schumacher. "For that, we would like to extend our sincere thanks."

Since its foundation more than 70 years ago, the Ebersdorf-based packaging manufacturer has continued to grow steadily and expand internationally. Schumacher Packaging now counts as one of Europe's largest owner-run companies in the sector. "Everyone in the company can feel proud of this development," emphasises Björn Schumacher. "It also became clear in 2021 that, through all our growth, we have remained a family-run company with a unique team spirit. The e-commerce boom and corresponding increase in demand for packaging, combined with a simultaneous shortage of raw materials, is currently one of the greatest challenges. We are overcoming this challenge brilliantly, not least thanks to our extraordinary employees." Therefore, the company management is keen to acknowledge the dedication of long-standing employees as part of the celebrations. In order to celebrate its company anniversaries, Schumacher Packaging extended the invite traditionally to the Goldene Rose in Grub am Forst on 24th September 2021.

Forty-five years as part of the Schumacher family – a remarkable anniversary
Above all, the company would like to thank its registered manager Uwe Kihm, who is marking his 45th anniversary in 2021. He is not only deeply rooted in the family company, but also has a respectable career behind him. Uwe Kihm completed his studies as an industrial management assistant in the 1970s, a short time later taking on the responsibility of the area of IT and sales as the right-hand man for Norbert Hagers, member of the board for the Schumacher Packaging Group. In this role, he continued to amaze with his extraordinary logical capabilities, as well as understanding, implementing and optimising systems down to the smallest detail. In the late 1990s, he became the Sales Director for In-house Sales. Thanks to his unfailingly outstanding commitment and consistent pioneering spirit, Uwe Kihm was granted authority to act as a manager in 2001 – testament to his excellent bond of trust. Since 2014, he has led the newly constructed plant in Greven. His comprehensive expertise and richness of experience were some of the reasons why the plant was able to come on stream so quickly. Uwe Kihm has contributed significantly to the fact that Greven is currently developing into one of the largest corrugated board plants in the world.

Schumacher Packaging congratulates
… on their 40th anniversary with the company:
Settar Gökbulut and Udo Reuter, who have provided four decades of loyal and dedicated service to our family business. Schumacher would like to express our heartfelt gratitude for such outstanding loyalty.

… on their 35th anniversary with the company:
Frank Bittruf, Jürgen Dominik, Uwe Gesslein, Detlef Hassel, Reiner Paul, Sebahattin Saglam and Silke Schmiechen.

… on their 30th anniversary with the company:
Toni Albrecht, Jens Bauersachs, Rigo Bauersachs, Hendrik Benndorf, Uwe Bernscheider, Yvonne Bohlein, Thomas Dorst, Mona Fröber, Peggy Jahn, Jens Kahlert, Fatma Koc, Mike Kotschenreuther, Carmen Krug, Mario Neukirchner, Evi Moika, Rudi Schnetter, Nils Seifert, Frank Stefan and Petra Wöhner – all of whom work at the Ebersdorf plant – as well as Silke Cebulla and Thomas Gebhardt at the Sonneberg plant.

… on their 25th anniversary with the company:
Thomas Bohlein, Claudia Eckstein, Silvio Frommhold, Steffen Glaser, Jens Hanisch, Stefan Janson, Renate Jaworski, Yvonne Rosenberger, Thomas Roth, Norbert Schindhelm, Korinna Spichal, Yilmaz Sümercan and Stefan Wagner.

… on their 20th anniversary with the company:
Stefanie Aumüller, Thorsten Bebermeier, Jürgen Bittruf, Nikolaos Gontis, Rudolf Heinlein, Mike Liebscher, Andreas Lützkendorf, Denny Lützkendorf, Miroslaw Marcinkowski, Holger Matthes, Naser Mecini, Roland Möx, Christoph Rigol, Michael Sattler, Sabine Schmidt, Christine Salwender, Wieland Walther and Hartmut Werner, all of whom are loyal employees at the Schumacher Packaging plant in Ebersdorf.
And celebrating their 20th anniversary at the Sonneberg plant are: Jens Diller, Norman Drews, Ute Hager, Andreas Held, Michael Roth, Volker Schröpfer, Kai Schulze, Steffen Sperschneider, Mario Voigtland and Diana Werk. Likewise a heartfelt thank you.

… on their 10th anniversary with the company:
Christian Baier, Mario Bauersfeld, Karin Biesenecker-Srock, Kevin Dober-Gerbert, Kristina Görlitz, Volker Höllein, Mario Keller, Murat Kirtay, Bernhard Kotschenreuther, Stefan May, Jonas Pauli, Anna Pechtold, Samantha Schittenhelm, Michael Weiss and Stefan Zapf, whose wholehearted commitment to their work at the Ebersdorf plant supports our family business.
At the Sonneberg plant: Philipp Anemüller, Christopher Bockisch, Doreen Eichhorn, Tobias Heinlein, Andre Licht, Tommy Mäder, Ute Müller, Frauke Vortmann, Lisa Wölkerling, Oliver Wolff and Tommy Zitzmann. Schumacher Packaging congratulates you wholeheartedly.

Schumacher Packaging says goodbye to eight employees entering retirement this year – and wishes them all the best:
After more than 40 years of service, Hartmut Wolf and Atif Yurdakul are looking forward to their well-deserved retirement. The entire company management team extends their heartfelt thanks for so many years of loyalty. The same is true for Reinhard Hempfling and Wolfgang Schaller, who have provided over 30 years of faithful service to the company. Schumacher Packaging also wishes Aziz Kourie, Rainer Munder, Manfred Schulz and Alfred Zettl all the very best as they enter retirement.