Individually printed
shipping boxes
Schumacher Packaging develops digital printing services for the printmate platform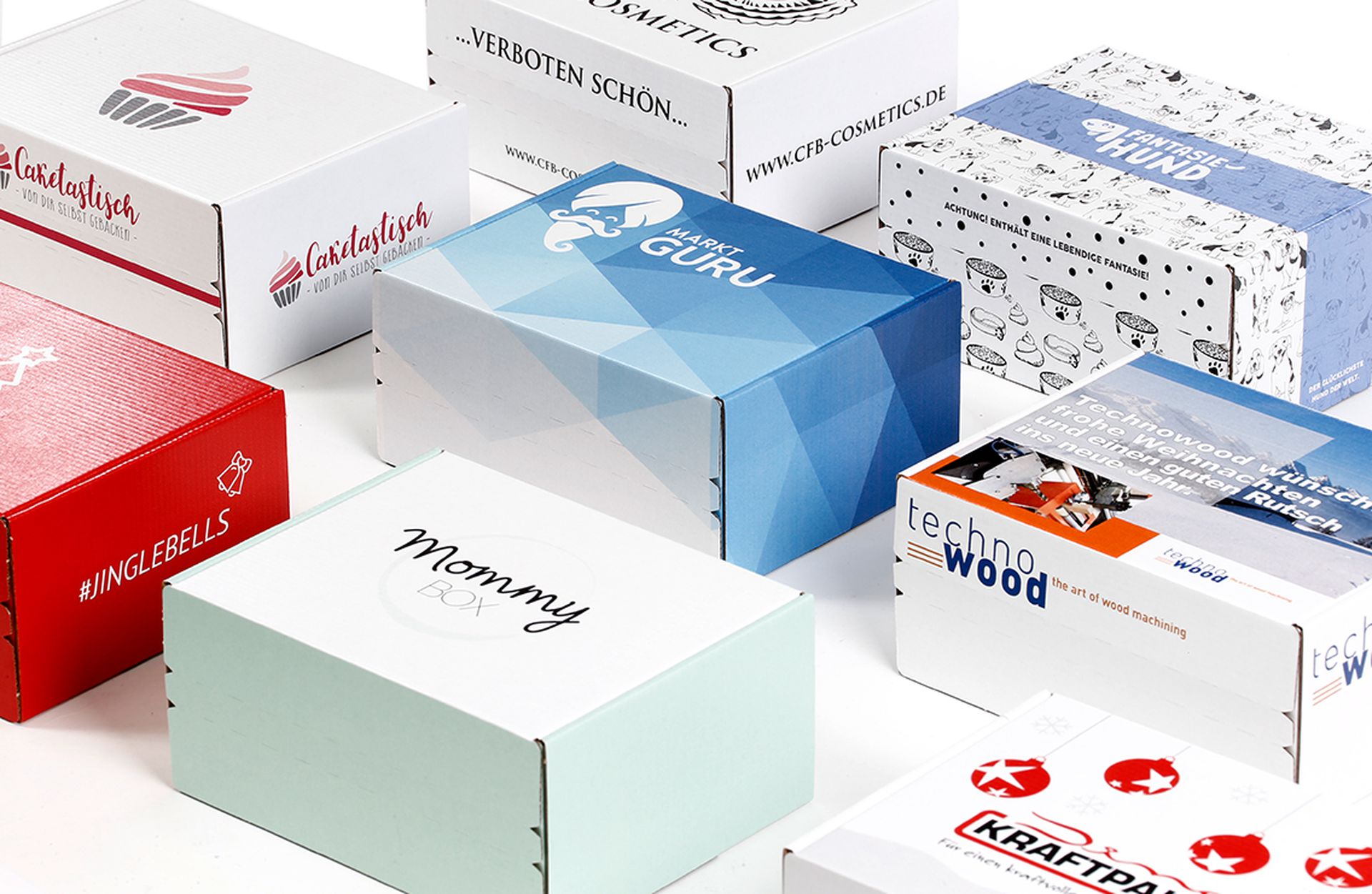 As anyone in e-commerce has known for a long time now, the moment in which a customer holds their package in their hands and unpacks it plays a key role in their relationship with online retailers. In the world of e-commerce – and the mail order sector generally – this is ultimately the only moment of physical contact between the customer and the retailer. It can be critical for customer loyalty, which is reason enough for retailers to use the marketing potential of packaging and make their shipping boxes as attractive as possible. This is precisely what the young company printmate GmbH from Berlin is looking to do for its business customers - by offering individual, high-quality digital printing of dispatch packaging in small batches, starting from 10 units. When the start-up launched its B2B shop in August 2015, there was only one packaging manufacturer capable of implementing this idea for printmate: Schumacher Packaging Group, based in the Franconian district of Ebersdorf.
One of the founders and directors at printmate GmbH in Berlin is Julian Jost. It was the enormous amount of relevant experience in the sector that gave Jost his business idea, as he had previously helped establish packaging management while working at Zalando. "At the time, I kept receiving requests from online retailers that were looking for sources of supply for shipping boxes with custom print designs," reports Jost. Then, idea for printmate was born.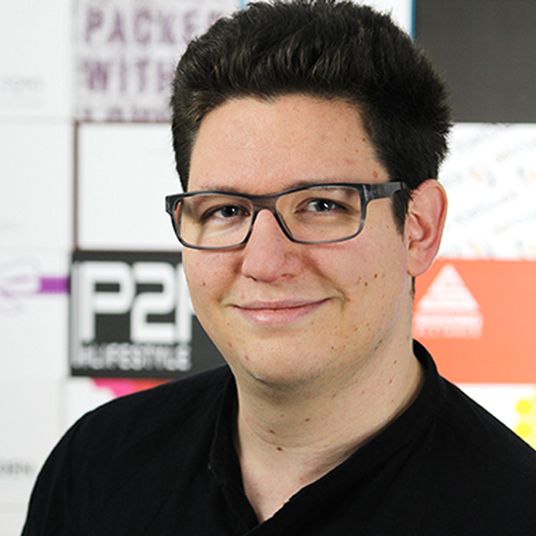 Then, idea for printmate was born. One key requirement at the time was to find a packaging manufacturer that could work in close partnership and was capable of both supplying and digitally printing custom images on shipping boxes in small quantities. It was only when digital printing came along that the option to also produce custom print images in small quantities actually became economically viable. After all, the conventional processes – whether flexographic or offset printing – are typically only used for large quantities, as new printing plates need to be produced and then set up for each new image. "It is fair to say that the production facilities at Schumacher Packaging were what made our printmate idea possible in the first place," comments Jost. The management team at Schumacher Packaging was also impressed by Jost's idea – so much in fact that they decided not only to support printmate as a supplier, but also to become one of the investors in the start-up.
Innovation in the packaging sector
The Schumacher Packaging Group is an expert in tailor-made packaging solutions made from corrugated and solid board. The medium-sized, owner-run company has been one of the productivity and technology leaders in the packaging industry for many years. Schumacher Packaging has already been producing digitally printed packaging in large quantities at its headquarters in Ebersdorf since 2015. Together with machine manufacturer Durst, Schumacher Packaging began testing a digital printer with a completely new design for mass volume production and then developed it until it was ready for series production in 2018. With the innovative digital printing technology, Schumacher Packaging is able to split industrial-sized batches of packaging and displays with identical structures into any number of partial series for the first time, from one sheet to several thousand. This mass volume digital printing makes it possible to vary the print from sheet to sheet, with different printed images, versions or barcodes. All this is possible immediately and without set-up costs. This makes it possible to categorise and customise packaging according to individual requirements, regardless of whether this is specific to regions, seasons, campaigns or customers.
Digital printing to become available to the masses
"We really like the fact that Schumacher Packaging is owner-managed," comments Jost. "This avoids long decision-making chains and allows the company to adapt quickly to the market at all times. I have a lot of respect for this. Schumacher Packaging was already producing digitally printed packaging in large quantities back in 2015," adds Jost. "Back then, other packaging manufacturers had not even begun to consider digital printing." A Delta SPC 130 printing system produced by Durst is currently in use in Ebersdorf. While conventional digital printers print 100 to 200 sheets per hour, Schumacher Packaging can produce several thousand sheets per hour on its state-of-the-art machine. Only on this kind of scale can digital printing become both available to the masses and affordable in the packaging sector. Variable print images can be printed without set-up times – the perfect conditions for printmate's business idea: "We are actually the first online provider of digital printing for packaging that can carry out poster-quality digital printing with water-based inks, directly on corrugated board", says Jost. printmate employees also regularly visit the production operations in Ebersdorf to continue identifying and optimising the opportunities offered by digital printing. "In this new machine category, this is a reciprocal learning process," adds Jost.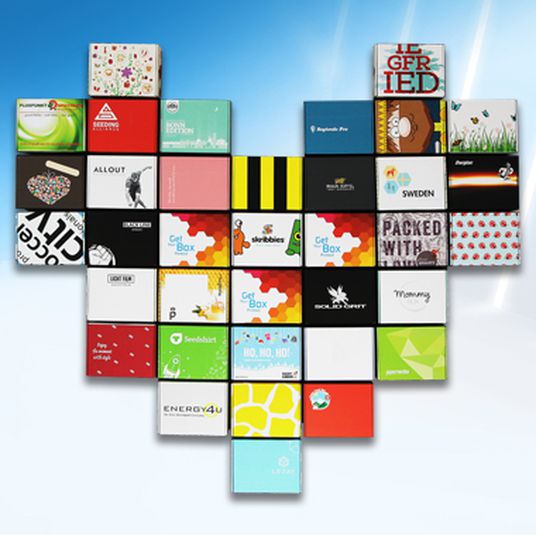 Nine box sizes, countless print images
printmate currently offers shipping boxes in nine different standard sizes in quantities of 100 pieces or more, from the larger models "Bags'n'Coats" and "Sneaker", to the slightly smaller "Notes" and "Accessoire", through to "Square, "Maxibrief", "Belt", "Maxibrief Junior" and "Pixel". In addition, printmate offers the opportunity to order Fefco0427 packages in custom sizes in quantities upwards of 10 pieces. Since November 2015, printmate has been making the creation of custom print images as easy as pie, even for those with no graphic design experience, thanks to its convenient online-editor with 3D view. Of course, the option to upload a dedicated print file is also provided as an alternative. This can be the preferred approach for e-commerce professionals, as they often prefer to rely on professional graphic designers for their designs.
Collective orders through printmate
Production of small quantities sits at the heart of printmate's business idea (minimum of 100 units). To this end, printmate collects the orders for a certain format and then combines these to create a collective order. The company then sends this order to Schumacher Packaging, where the shipping boxes are produced and have custom print images applied as per the customer's wishes. The format for this kind of collective production is therefore identical – although the print images themselves are not. Alongside its Standard format range, printmate also offers its shipping boxes in a slightly more expensive Express version. The benefit: this reduces the customers' waiting time for the production and delivery of their custom printed shipping box from about a month to just one week. If customers are looking to order more than the minimum quantity of 100 units, this is rewarded by printmate with reduced unit prices. Discount scales of this kind are offered for both Standard and Express versions.
Revenue and product range on growth trajectory
printmate already has more than 1,500 regular and returning customers. "In 2017, we were able to triple our revenue over the previous year," reports Jost. The online platform is now available in German and English, and we already get customers from throughout the EU. Being an early adopter of digital printing technology certainly paid off for printmate. Alongside major brands such as Foodist, Tesa and Disney, printmate today also caters to start-ups and small companies with custom designed packaging. These companies in particular benefit from printmate's expert knowledge – and from the opportunity to have small quantities produced. "With our concept, we have demonstrated that it is possible to standardise custom designed packaging," comments Jost, "but we are also constantly on the lookout for new products that could cater to a diverse range of customers. "We are happy to look at anything that is packaging-related." One thing is certain: The success story of printmate is set to continue. Digitisation and individualisation are pointing the way into the future for the packaging sector.